Try It For Free:
Sign Up For Your 30-Day Book Scanner Trial, On Us
It's one thing to hear about how the Scannx Book ScanCenter™ transforms your library with innovative book scanning technology – but it's a whole different experience to try it for yourself.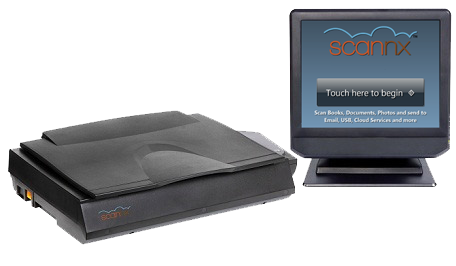 That's why we're letting you try out the Book ScanCenter completely free for 30 days. We believe you'll notice the difference our library book scanner makes for your patrons' experiences, your ILL lending and your printer cost savings – not to mention a decreased need for tech support. And if you don't embrace what the Scannx document scanner does for your library, send it back – we'll pay for the shipping.
Your complimentary trial consists of:
Complete Appraisal:
Your 30-day trial includes the entire flatbed scanner and integrated software. Nothing is left out of the experience while you try out the Book ScanCenter.
Easy Installation:
Setting up the document scanner is painless. Not only are complete instructions included, but if you prefer, customer service is available to guide you through setup over the phone.
Continuous Support:
Full technical support is available throughout your free trial. A Scannx expert is available to maximize your experience with the Book ScanCenter on everything from functionality and maintenance to usage and analytics.
Simple Return:
If you'd like to return the scanner at the end of your trial, just pack it back in the same box with the return shipping labels that are already included.
Follow-Up Insights:
Whether or not you keep the scanner at the end of your trial, our Scannalytics™ team highlights any hiccups in your current book scanning service and offers ideas to improve your digital library technology.
Risk-Free:
You are under no obligation to keep the book scanner. If you aren't satisfied, just send it back – no questions asked.