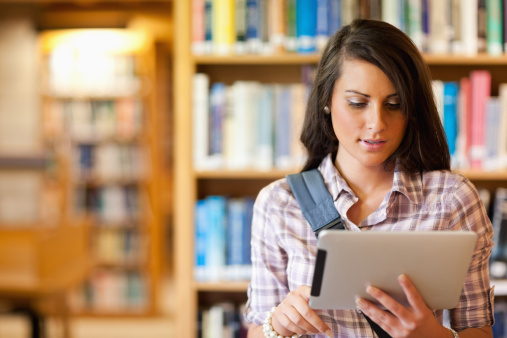 According to a 2013 Deloitte study, eight in ten college students own a smartphone, and 32% own a tablet or e-reader of some kind. Today, those numbers are even higher. Mobile technology has changed the way your students work within the library setting, so scan-to-mobile technology is quickly becoming a library necessity.
Shift In Standards
Your students today are so absorbed in their own digitally enhanced and expedited worlds, that their standards have shifted – they no longer just use mobile technology, they expect technology, such as a library book scanner, to integrate with it. And do you really blame them? That's just how the world works today – nearly every gigabyte of existing information is easily accessible through a portable, digital device. Your students' standards simply reflect the changing times and advancements in technology.
Why Do You Need Scan-To-Mobile Technology?
So your students are dependent on the quickness and ease of mobile technology – by offering a scanning device that seamlessly integrates with mobile devices, you meet the needs of these digitally dependent students, and ensure the ease and accessibility they have grown so accustomed to. When your students feel comfortable, familiar and at-ease, they begin to actually enjoy their library experience.
How Scanning To Mobile Encourages Student Engagement
Libraries are supposed to be quiet, yes – we're not suggesting that scanning to mobile devices encourages loud, high-energy exchanges. But, utilizing book scanners that have scan-to-mobile capabilities does take the frustration out of using temperamental old mechanical scanners, allowing your students to work more efficiently and on a more consistent basis (no breaks in productivity waiting for the scanner.)
A scan-to-mobile book scanner system grants students quicker and easier access to information, and gives them a quicker and simpler way to do their work efficiently – they feel in-tune with your library's processes, and confident in the security of their files and documents. This sort of stress-relief lightens the entire atmosphere in your library.
Take It A Step Further
Maximize student engagement even further by hosting a workshop on your new scan-to-mobile technology process, and demonstrate how easy it is to transfer information from a book straight to a student's smartphone or tablet using your library book scanner.
Digital technology is a constantly growing whirlwind of change. You don't have to keep up with all these changes, but you do have to understand how they affect your library. Without scanning technology that leverages mobile devices, there exists a huge gap between your students' lifestyles and your library services. Adopting a scan-to-mobile service is not only going to bump your library into the 21st century – it's going to encourage your 21st century students to proactively engage with your library.
Want to learn more about the beneficial impacts of scan-to-mobile technology on your library? Click on the button below to download your free guide, Scan-To-Mobile Technology: The New Process Your Patrons Are After, and see how scan-to-mobile technology transforms library efficiency and provides your patrons with the solutions they seek.