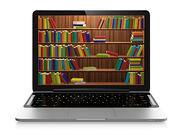 Worldwide consumption of paper has risen by 400% in the past 40 years. If you are a dedicated library administrator and strong advocate for eco-friendly libraries, that's likely a disturbing statistic for you. Many green libraries have begun dropping traditional services in favor of digital processes. Yet, digitizing your library, or performing a complete overhaul of your library technology, sounds stressful.
Library digitization may seem intimidating, but it is one of the only ways to play your part in reducing paper waste and to fulfill your responsibilities in operating an eco-friendly library. Let's break down the facts and figures behind paper waste, scale your options for library digitization and bring your "eco-friendly library" title full circle.
The Facts
More than two billion books, 359 million magazines and 24 billion newspapers are published each year. (Purdue Research Foundation & US EPA)

The massive increase in worldwide paper consumption has risen by 400% in the past 40 years, leading to increases in deforestation (35% of harvested trees are being used for paper manufacture).

The United States produces 71.6 million tons of paper waste per year.
Paper waste accounts for 40% of total waste produced in the United States each year.

According to the American Forest & Paper Association, paper manufacturing is the third largest user of fossil fuels worldwide.

According to the International Institute for Environment and Development, when paper rots or is composted, it emits methane gas, which is 25 times more toxic than carbon dioxide.
The Main Offenders
What elements of your library technology are detrimental to the environment? There are three main culprits:
How do you knock out all three of these pollutant producers while maintaining efficient library services?
Digitizing Your Library
To reduce the waste that stems from traditional library technology, digitizing your library is absolutely essential. Library digitization isn't as complex as it sounds. There are several simple technologies that maximize eco-friendliness and eliminate paper waste.
Book Scanning
Allows patrons to create a digital version of printed material.

Allows libraries to share resources with each other and their patrons without printing or having to order multiple copies of printed materials.

Patrons are able to digitize materials that they need access to outside of the library without having to print multiple pages of copies.
Scan-To-Mobile Technology
Cloud Technology
Offers an alternative way to distribute information to multiple people without wasting paper and toner on multiple print copies.

Especially useful for teachers, professors and instructors as an alternative to printing and handing out print resources.

Makes information available in many formats that are accessible from multiple devices.
For your library, integrating book-scanning, cloud-based and scan-to-mobile technologies into your services translates to a dramatic reduction in paper and paper products.
Digitizing your library may seem like an intimidating step toward the future, but digital libraries are the future. Digital technologies consistently help to reduce paper waste and enhance the overall efforts involved in building eco-friendly libraries.
Ready to move forward with your eco-friendly future through library digitization? Click here to connect with a library technology expert at Scannx, and get the insight you need to step up your eco-friendly efforts and eliminate paper waste.