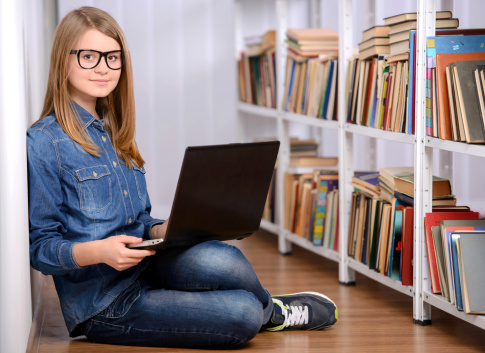 As the digital evolution progresses, it becomes more and more apparent that library technology is not what it used to be. No longer do life-sized scanning machines hog the hallways of library facilities. Libraries have begun adopting digital scanning methods that eliminate the need for paper and allow students to acquire needed materials at a faster pace. Reading materials have become accessible through tablets and mobile phones, and Wi-Fi is now a staple in library settings.
Bearing in mind these new technological developments, as well as the unavoidable influence of digitization, we ask you this: Are you prepared for the future advances of library technology? At the rate that digital evolution is moving, libraries need to be totally on board with new technology – or risk fading into the past.
Looking Ahead
Recall all the digital transformations that have occurred in the past decade, and then try imaging those that might happen in the next 10 years. You're probably envisioning things like flying cars and automated manicure machines. Why? Because that is how impactful technology has become in our everyday lives. People depend on it.
Currently on the market are mini Wi-Fi adapters, mobile hotspots and wearable tech – and these are just a preamble to the future of library technology. Library technology is going to transform, and you've got to be right on its heels. Here are three technologies that guarantee a natural integration with the digital movement:
Digital Book Scanners
Digital book scanners and software streamline your library's operations to create efficiencies, cut costs, reduce maintenance and eliminate reliance on continuous IT support.

Scan-To-Mobile Technology
Scan-to-mobile involves the simple technological transfer of information to a mobile phone. It's just like traditional scanning but much easier and much more in tune with the lifestyles of today's tech-savvy students and library patrons.

Cloud Technology


Cloud technology refers to web-based, Software-as-a-Service (SaaS) platforms that house all your files and grant you anywhere, anytime access to them.
It's a good idea to continually update your library technology, but that's not possible when you're not up to date on current advancements. Here are a few tips for growing and spreading your knowledge base in this area.
Being In Tune With Technology

Stay informed: Educate yourself on all technology advances and how they might affect your library and patrons.
Help each other grow: Train your staff on the usage and practical application of new technology as it pertains to your patrons.
Be proactive: There are tons of organizations dedicated to the growing movement of digitization. Go to events and network. Invest a significant amount of energy into developing your knowledge of the digital world and the best ways to keep up with it.
Don't allow your library to get lost in a world of unfamiliar innovations and seemingly impossible technology systems. Stay one step ahead of the game, and be adequately prepared for any transformations brought on by the future of technology.
Are you keeping your academic library ahead of the curve and giving 21st-century patrons what they want? Click below to read a free report from Scannx and learn how to refocus your library for the next generation of students and patrons.