ScannX Book ScanCenter Flexi Lite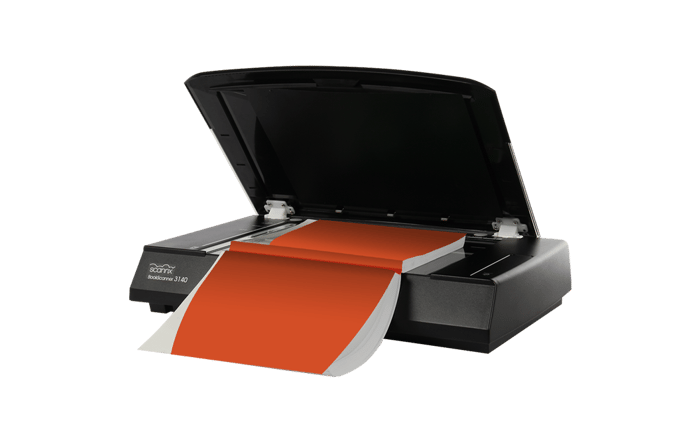 Convert your PC into a book scanning system
The ScannX Book ScanCenter Flexi Lite is the industry's easiest-to-use, self-service book scanning solution for library patrons and staff. No other small format book scanning system offers its ease-of-use, advanced image processing features, and cloud services at this price.
The patented design of the Book ScanCenter Flexi Lite protects the spine of the book from damage to extend its life. The book page lies flat on the glass, and the full image of the page is captured without distortion. The Book ScanCenter automatically crops, straightens and orients each page.
Features
Connects to any Windows 10 (Pro) PC with standard or touchscreen monitor

Converts scanned images to PDF, JPEG, TIFF, and PNG file formats

Sends scanned files to email, USB drive, Google Drive, network folders, or printer

Patented design captures full pages of text without distortion
Pages up to 8.5x11" can lie flat on glass to protect book spine
Easy-to-use software available in English, French, Italian, German, Spanish, and Russian

Supports ITC and Jamex payment systems

Powered by ABBYY FineReader Technology for unmatched OCR (optional)
Keep Your Library Green
The system also helps you meet your environmental goals by allowing your scans to be sent to or stored on a variety of media, rather than printing. The Book ScanCenter Standard Edition software includes output to email, Google Drive, network, print, and USB drive.
Unmatched OCR Accuracy (optional)
The Book ScanCenter Flexi Lite is integrated with the ABBYY FineReader Engine for unmatched accuracy. ABBYY's multilingual document recognition engine automatically detects English, French, Italian, German, and Spanish languages. This is an optional add-on to the Flexi Lite system.
Scannalytics
Scannalytics tracks usage statistics, enables features remotely, and distributes updates. IT and Accounting departments can use these reports to manage and optimize asset utilization and department chargeback fees.
Supported Billing Systems
The Book ScanCenter Flexi Lite supports ITC and Jamex* coin, bill, and debit/credit card systems. It also works with leading print management vending systems including Pharos, EnvisionWare, and PCounter.
Reliability
The Book ScanCenter Flexi Lite is backed by a one-year Manufacturer's Warranty that can be extended through ScannXtra Care for up to five years. The unit is supported by ScannX technical support and customer service teams.