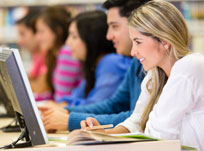 As an academic librarian in the 21st century, you have to work extra hard to meet your students' swiftly shifting needs.
Your students don't like to wait.
When they need to do research, they don't pick up their library cards -- they reach for their smartphones. When they have a question, they go to Google … not Dewey. Scrolling through websites is much more appealing to them than scouring through the stacks.
They want information at their fingertips.
With a few taps, swipes and clicks, they have access to an infinite amount of information. And it's all at their digital convenience, anytime and anywhere they need it.
So how do you keep up with the next-generation student? How do you keep your library relevant in today's fast-paced, pixel-hungry world?
You turn the page in your library technology.
You take your library into the next generation with them. By capitalizing on digital book scanning capabilities, you bring your library up to the speed that keeps up with your patrons' needs.
How does document capture technology transform your students' library experience?
Getting access to non-circulating materials with interlibrary loan requests that allow libraries to share scanned materials

The BookScan Center's patented book-edge scanner design allows the page to lie flat on the glass so it captures a full, clear image all the way to the edge of the scanner bed -- no black gutter, no distortion and no need to press the book flat against the glass, which would compromise the spine
Especially beneficial for the sharing of archaic texts and other delicate materials
Scanning class notes and sharing with friends and classmates
Using fluid touchscreen computers to create searchable PDFs where they can find the exact information in their personal digital library when they need it instantly.
Sending scanned files to a variety of personal or collaborative platforms:

Email
Smartphone/tablet
Document-storage platforms and apps like Google Docs
FTP sites and network folders
Other document-management devices like fax machines, USB flash drives and multifunction devices
Using Google Docs, Microsoft SkyDrive or other document-sharing systems for real-time collaboration with multiple colleagues -- dropping in data and watching their project partners' edits and contributions to documents as they happen
Using Google Apps for education and Office 365 to host emails and document storage
Scanning financial aid information, social security cards, drivers' licenses and passports with secure scanning software that keeps all information completely private
Don't let your library get left behind in the digital dust. Join the revolution of library evolution with cutting-edge document capture technology.