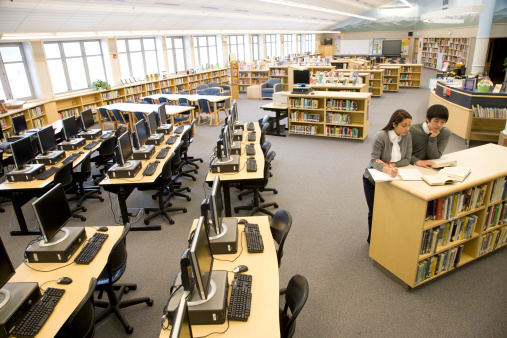 When transitioning to a green library, you might be overwhelmed by the variety of eco-friendly options available to you: Should you redesign the building architecture? Go paperless? Use green cleaning products? Sometimes, going green with your library seems like an endless puzzle of possibilities. But if you're eager to get started with your eco-friendly efforts, our library technology experts are here to help. The professionals at Scannx have devised this easy-to-absorb list for transforming your facility to a green space – one tactic at a time.
From small-scale adjustments to more complex strategies, this list provides your library with several options for a smooth, streamlined transition to green.
Water Conservation
When going green with your library, water conservation is probably far down your list of priorities. Nevertheless, water conservation techniques have a dramatic impact on eco-friendliness and earn high recognition from LEED (Leadership in Energy and Environmental Design.) Try these simple, cost-effective strategies for water conservation.
High-efficiency toilets

– If installing these fixtures is too expensive, assess your toilets and sinks for any leaks. Often, an undetected leak leads to water waste.

Water fountains

– These provide an easy opportunity for patrons to refill bottles or thermoses, cutting down drastically on bottled water waste.
Heating And Air Conditioning
Thermostat settings – Lowering the temperature settings on the thermostat by a degree or two in the winter, as well as raising them in the summer, cuts electricity usage and utility costs.
Overhead fans – Consider installing fans so you don't overuse your AC unit in warmer weather. Fans use much less energy than air conditioners but still provide adequate air circulation.
Lighting
Eco-friendly light bulbs – Install fluorescent (CFL) bulbs instead of incandescent ones. CFL bulbs offer the following advantages:
They last three to eight times longer.
They cost less.
They use less energy.
They operate at a lower temperature (which also helps to lessen your AC needs in the summer).
Recycling

Variety – Provide your patrons with separate bins for paper and plastic products. You might also consider having distinct recycling bins for technologies (broken cell phones, iPods, etc.) and batteries.
Ink/toner procedures – Implement an individual recycling procedure for your ink and toner. Some companies encourage this by offering free toner to customers that correctly dispose of old cartridges.
Cleaning Products
Going green with your library doesn't have to involve major modifications within your facility. If you're looking for a smaller-scale change, consider your methods of cleaning. There are plenty of green cleaning products on the market, and they all provide tremendous benefits with regard to the health and wellbeing of your patrons and staff:
Biodegradability
Low toxicity
Low VOC (volatile organic compound)
Low energy use
Minimization of chemicals' harmful impact on staff and patrons
Improved indoor air quality (a major LEED certification factor)
Reduction in water and air pollution
Updated Technology
How old is your library technology? 67.2% of library expenditures are used for printed materials or print technology. Not only is older technology out of sync with 21st-century patrons, but it also radiates massive amounts of chemical energy and contributes to paper waste. When transitioning to more eco-friendly practices, consider doing away with older technology and upgrading to these four energy- and paper-saving services.
Book Scanning


Book scanners streamline your library's operations to create efficiencies, cut costs, reduce maintenance and eliminate reliance on continuous IT support. Most important, book scanning technology improves the library experience for your patrons.

Scan-To-Mobile Technology


Scan-to-mobile refers to the simple technological transference of information to a mobile phone. It's just like traditional scanning, except it eliminates the need for any kind of paper product.

Cloud Technology


Cloud technology refers to web-based, Software-as-a-Service (SaaS) platforms that house all of your files and grant anywhere, anytime access to them. Cloud-based software offers a stress-free way to organize, retrieve and share files and, above all, maintain your library's productivity.

E-Readers/Tablet Checkout


Keep in mind how digitally evolved your patrons are. The concept of checking out a digital device and accessing digital material on it is going to appeal to them. A device-renting system also purges the need for printing, which contributes to your overall status as a green library.
When it comes to implementing eco-friendly practices, your library is faced with endless possibilities. Your best bet may be to hone in on energy conservation first and then move on to water conservation tactics. Transforming your library into a "greener" facility takes time, but one thing is for sure: Eco-friendliness comes in all shapes and sizes, and opportunities for growing a green library are boundless.
Ready to get involved in the green movement? Click below to download the free Scannx guide, Growing Into A Green Library: Your Eco-Friendly Library Technology And Management Guide, and discover several unique approaches to going green with your library.