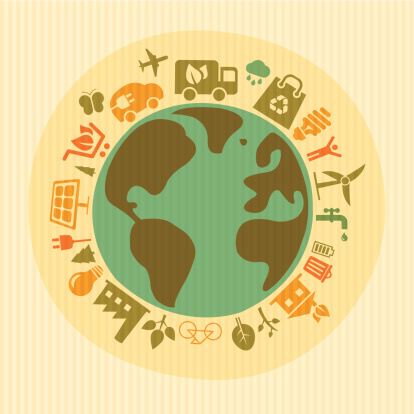 There are various technical facets to consider when attempting to transition to a green library, including things like architecture, location, heating and air conditioning units and water lines. But to really show your library's dedication to the environment and play a dynamic role in the green movement, you've got to be active. Your green library needs a strong support system to help it take off.
Ever wondered why the green movement has gained momentum throughout history? It's because people, communities, dedicated leaders and loyal followers joined together to achieve a mutual goal. A huge part of transforming into a green library involves the communal aspect. It doesn't matter how green your library "looks" if people don't show support. And they are unlikely to do so for an organization with no rallying cry – no drive to reach out, make plans and do.
There are several ways for green libraries to step up and become actively green – whether by informing, leading or connecting patrons and community members. Below are specific tactics to help your green library grow within its own community and form closer alliances with fellow green groups.
Inform
Become a source of information: Provide resources on environmental issues as well as local, national and worldwide green efforts.
Offer workshops on community green efforts and eco-friendly practices for patrons to participate in.
Host guest speakers that provide patrons and community members with valuable information on environmental matters.
Host an environmental video series available to view at the library or via the library website.
Hold an environmental book club and discussion group.
Lead
As a dominant organization within your green community, lead by example:

Implement recycling programs.
Reduce waste.
Reduce energy use.

Make your efforts visible so that people are able to learn from them:

Use social media to announce new green efforts.
Make recycling cans prominent in your facility.
Offer downloads or webinars from green speakers and workshops.
Connect
Connect with your town's green communities:

Offer incentives for patrons that frequent green businesses.
Highlight other local green businesses via the library website, app and community boards.
Meet with local groups that are working on environmental issues and determine how the library can meet their informational needs and form partnerships.

Connect with green patrons:

Create a digital library newsletter with eco-friendly community events, activities, fundraisers and speakers.
Host meetings for people who want to talk about green issues and brainstorm ideas to implement within their community.
Through the years, the green movement has evolved dramatically – from Henry David Thoreau's The Maine Woods, which advocated respect for nature, to Roosevelt's push for land conservation in the wake of WWII, to the tree-hugging days of the 90s. Today, the green movement has reached an all-time high, and it's mainly due to the passionate group of people pushing from behind. In fact, you'd be hard-pressed to find a city that doesn't house a strong, eco-friendly coalition.
To get your green library off the ground, ally with these committed individuals to form collaborative efforts, joint support and close community bonds. Without a steady support system or team of dedicated followers, your library's green movement isn't going to go very far.
Ready to get more involved in the green movement? Click here to download the free Scannx guide, Growing Into A Green Library: Your Eco-Friendly Library Technology And Management Guide, and discover several unique approaches to going green with your library.