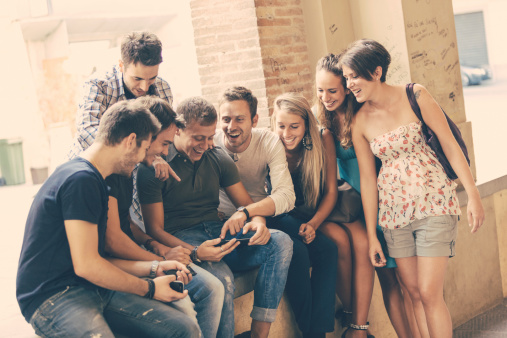 We live in an age of technological advancement. Electronic developments have transformed the ways in which people think and learn. As students are surrounded by an infinite number of various digital devices on a daily basis, it should come as no surprise that they enter your library with some pretty high expectations regarding library technology.
According to The National Center For Education Statistics, educators reported having the following technology devices available as needed or in various learning centers every day:
LCD and DLP projectors
Interactive whiteboards
Digital cameras
Remember when chalkboards were the sole tool for teaching? This shows just how much educational technology has changed. As your library is essentially one big classroom for educational growth and enhancement, students expect this upgraded, digital technology in your facility as well.
Sure, students still read books and refer to printed data, but their approach to learning and many of their tools for doing so are digital. Here's what your library should know about students' technological standards today:
Students Expect Digital Convenience
Your students expect to be able to access reading materials digitally. Their schedules are jam-packed with school and social life, so if they need to do research from their smartphone or finish up homework on their tablet, today's technology allows them to do so. The question is: Does your library technology enable this?
Students Expect Anytime, Anywhere Accessibility
Students do not always have time to plan a trip to the library. If they've saved a project on your library network, they want to be able to open it wherever they are, at whatever time they need it. Having this anytime, anywhere accessibility accommodates your students' hectic lifestyles.
Students Expect Social Studying Capabilities
The new trend of social studying is quickly becoming a necessity among students. Social studying combines the appeal of social media and peer engagement with academics – forming one big online study group.
As technology evolves and more organizations adopt these digital educational tools, your library is faced with a familiar standoff: Continue with traditional technology and slowly lose student interest, or shift gears, update your library technology and get on the same page with your tech-savvy students. If you're thinking the ladder, you're headed in the right direction. Here are some basic library technology tools that give your tech-savvy students exactly what they're looking for:
Digital library hub
Online study groups (consider: Google hangout study groups)
Digital connectivity to subject matter experts (offering open chat with tutors, librarians, professors)
Your students' expectations have shifted dramatically, and you want to make sure your library technology fulfills their needs. When students don't have access to the digital services they're accustomed to, their workflow is interrupted, and they begin to view your library services as more of a hassle than a help. Maintain a modernized facility with digital library technology, and you'll fall right in line with your students' digital needs and educational expectations.
Ready to take the first step in upgrading your library technology? Click below to download our free report Book Scanning: A One-Stop Solution To Common Library Challenges, or contact a Scannx expert directly and get your library moving in the right direction.