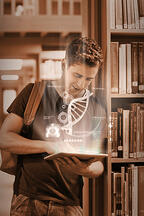 It was approximately one year ago that President Obama announced ConnectED, his worldwide initiative to bring high-speed internet to 99% of American students. This initiative is wholly based on the defining characteristics of classroom learning today:
Students have digital access to everything they need.
Classrooms are utilizing scanning technologies as well as online test-taking.
And when was the last time you saw a chalkboard?
The logistics of academics are certainly not what they used to be, but in the eyes of many, they're changing for the better. Digital learning is strongly emerging as a preferred way to educate and be educated.
The Presidential Perspective On Digital Learning
President Barack Obama describes his vision of "connectivity" in terms of future learning, as well as his plans for structuring more digital schooling options:
"This is not connectivity for connectivity's sake. It is laying the foundation for a vision of classrooms where students are engaged in individualized digital learning and where teachers can assess progress lesson by lesson and day by day. It's about creating learning environments where students can both succeed and struggle without embarrassment, where barriers for children with disabilities are removed, and where we can bring the most modern, innovative, and up-to-date content into the classroom."
How It Impacts Your Library
With this new wave of digital learning and connectivity, your library is challenged to prepare for a new wave of patrons. These patrons expect specific technological learning tools from their libraries.
Not only is the use of electronics forecasted to intensify, but it's also going to continue dominating the academic industry. Communication as a whole is changing. The way students acquire, consume and process information is evolving, which means the way you manage your library must evolve, too.
Keeping Up With Connectivity
As academic libraries become increasingly connected to the world around them, your patrons begin to expect more from their experience at your library:
High-speed internet connections
Faster streaming and download speeds
Digital-sharing options for teachers and students
Library material available digitally
With this intensified connectivity, students are going to expect 24/7 access to their library. That means you should be considering an online portal – a network in the cloud that houses all student material, lesson plans, assignments and communication tools. That is digital learning. That is what your students and patrons are demanding.
To keep up with this movement and fully embrace digital learning, your library must streamline its processes and simplify its services. Here are three pieces of library technology that provide a great jumping-off point for digital learning:
Digital book scanners

:

Book-scanning software streamlines your library's internal

operations to create efficiencies, cut costs, reduce maintenance and eliminate reliance on

IT support. Most important, book-scanning

technology

simplifies the

library experience for

your patrons and students.

Scan-to-mobile technology: This refers to the simple technological transference of information to a mobile phone – it's just like traditional scanning, but it's easier to use and much more in tune with the lifestyles of today's tech-savvy students and library patrons.


E-books:

The world's biggest e-book publishers have now made their products available to libraries all over the globe.

This shows a dramatic shift in library management standards and services. Books in digital format are becoming an increasingly essential tool for leisure

and

learning.
Connecting with your students via digital platforms is quickly becoming the norm. We know all about 21st-century patrons – now it's time to start adjusting to their world, giving them what they need. The way people learn is rapidly transforming. Be a part of this movement: Connect with your patrons the way they're connecting to the world.
Ready to learn more about updating your library technology? Click on the button below to download your free guide, Book Scanning: A One-Stop Solution To Common Library Challenges, and see how book-scanning technology transforms library efficiency and provides your 21st-century patrons with the solutions they seek.