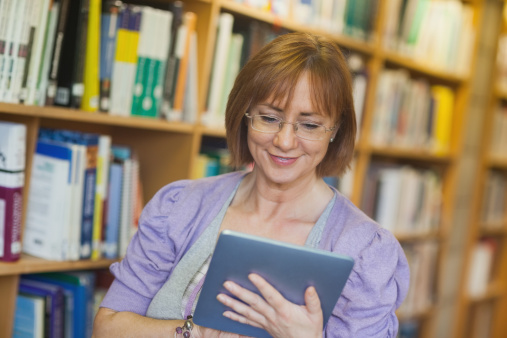 Students today have a natural grasp of all things technological. After all, they were raised in an era of digital evolution. To the millennial generation, a cell phone is a necessity, the Internet is a staple of life and mobile applications make up leisure activities. They are products of a digitally dominated world.
Teens And Their Technology
Three out of four teens have social networking sites, and half of all teens use these sites on a daily basis. Between the ages of 13-17:
82% of kids own a cell phone
41% own a smartphone
43% own an iPod touch or similar device
14% own an iPad or similar device
52% check their social networking profile from a mobile device
As of 2011, 59% of kids between the ages of 8-18 had high-speed, wireless internet access.
As a result of this digital dependence, learning habits have changed. Your students are demanding more out of their library technology. And you now have the responsibility of not only providing upgraded digital library services, but also being knowledgeable about them.
There's no point in housing modern library technology if your staff has no idea how to use it. Your team should be updating these systems – and their attitudes about them. Being more familiar with today's library technology means being more connected with your students.
Making The Grade With Library Technology Services
Here are some simple ways to educate yourself and your staff on new library technology and promote greater student engagement:
Create a student advisory board that can suggest technology that would be beneficial to them and their peers. Their vast knowledge of new and future technology can help you to provide the most useful technology to your students and patrons.
Utilize your students as tech trainers. They are most able to navigate the unknowns of digital realms and will jump at the opportunity to employ their tech skills.
Appoint students as tech support staff and mentors through a volunteer or work-study program. This enables them to learn more than just troubleshooting and repair tasks: It gives them the opportunity to build their interpersonal and collaborative skills. At the same time, it keeps your library moving forward in the digital world.
Upgrading your library technology involves more than simply replacing a machine. There is an entire mindset that accompanies the transition. Your students have it – and you've got to have it, too. Consider these simple steps for moving your library technology forward and meeting your students' needs:
Implement an e-reader checkout. An e-reader is a mobile electronic device designed primarily for reading digital e-books. Formulate a simple checkout process for these devices, and they will fly off the shelf. Most students prefer to access their materials in digital format as opposed to hard copy.
Set up computer stations. Your students will benefit from access to a vast network of materials, experts and knowledge that can be found online. And giving them access to new software and tools will help them to continue to grow their skills.
Utilize cloud technology. A web-based Software-as-a-Service (SaaS) platform houses all your files and materials, giving you access anywhere and anytime. Cloud technology is a perfect solution for your constantly on-the-go students.
Offer Evernote Notebooks. These paper notebooks are designed for users who want to create digitized versions of handwritten notes.
Install digital book scanners to streamline your library's operations, create efficiencies, cut costs, reduce maintenance and eliminate reliance on continuous IT support.
Institute scan-to-mobile technology. This refers to the easy technological transfer of information to a mobile phone. Similar to cloud technology, scan-to-mobile technology is compliant with the lifestyles of today's students and library patrons.
These days, students have the upper hand in terms of technology – so use this to your advantage. When implementing new library technology, be sure to recognize the knowledge base it demands. Plan technology training for your staff and utilize the vast expertise your students bring to the table.
Ready to learn more about updating your library technology? Click on the button below to download your free guide, Book Scanning: A One-Stop Solution To Common Library Challenges, and see how book-scanning technology transforms library efficiency and provides your 21st-century patrons with the solutions they seek.