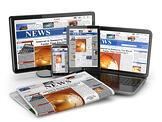 Online journals are becoming more of a trend, and many newspapers are being forced to cease publication. Why? Because e-books and e-publications are the newer, quicker and more mobile way to read in this increasingly digital world.
Over the last few years, electronic publishing has taken the literary world by storm. With the continuous transformation of page to screen, e-publishing is rapidly converting the way knowledge is obtained and shared.
Many libraries already offer great selections of e-books and e-publications, but what we're talking about here is an entire shift in scholarly practices and the way your students and patrons obtain and consume their reading materials.
With the growing convenience and popularity of e-books and e-publications, your library needs to offer digital access to its current stock. Unfortunately, with the rising costs of licensing fees for e-published works, there is a lot to consider in terms of executing digitally advanced methods.
The Cost Benefits Of E-Publishing
As budgets cuts are nothing new to libraries, the cost to implement any fresh technology is always an issue. But, while licensing fees for e-published materials are going up, there are still many cost benefits that prevail.
By eliminating the need for hard-copy book purchases and monthly subscription fees for publications that require constant upkeep and replacement, you're going to make a noticeable impact on your budget. Now is the time for libraries to transition to a less expensive, more culturally relevant (and not to mention paperless) solution.
Replacing older library technology with new, digital methods and machines has the potential to preserve your library budget. And by implementing more digitally attuned processes like e-publishing, you're able to offer your patrons the library technology they have come to expect in this ever-changing digital domain.
Digital Curation: Going Beyond E-Publishing
The concept of digital curation is rapidly changing the roles of library staff and administration. In a broad sense, digital curation is the practice of collecting, preserving and archiving digital assets. In the library, this dives much deeper. With the utilization of book-scanning technology, digital curation goes beyond today's standards of e-publishing to transform your current library collection into a digitized literary repository.
In terms of book preservation, it is the ultimate goal of the Institute Of Museum And Library Science to merge the creation and publication of scholarly data. The proliferation of e-publishing, digital curation and technologies such as book scanners makes this a realistic goal.
According to the institute, libraries everywhere are going to play an integral role in accomplishing this objective. They have the capabilities to make resources available across digitally connected networks. With their already firm, traditional stance on book preservation and distribution to the masses, libraries seem to be the ideal candidate for practicing digital curation.
Regardless of the future impact libraries are going to have on digital curation and e-publishing, one thing is for sure: To survive in an already thriving digital environment, technological and literary collaboration must become a standard practice in today's libraries.
Interested in getting more information on innovative technology to advance your e-publishing and digital curation efforts? Click the button below to download Scannx's free report, Book Scanning: A One-Stop Solution To Common Library Challenges.