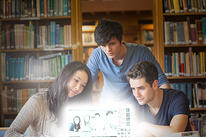 The practice of sharing stories has existed since the dawn of the human race. Through the centuries, new discoveries have changed the way we share our stories, but one thing has remained the same: We continue to share. For a digital library to be effective, it must embrace the changes in our methods of sharing and adapt accordingly.
In today's digital world, most of your patrons are actively socializing online. Social media has provided people with new tools for communication – ones that span globally and disseminate massive amounts of information. It's easy to find a Facebook group for almost every interest, hobby, passion and idea that exists in the world.
Sharing in the social media world is a daily occurrence. We share our likes, happenings, special moments, life accomplishments – even well-angled, heavily filtered pictures of our latest culinary creations. We, as people, love sharing our stories. And we, as people living in the digital age, love how simple it is to share our stories.
Libraries have always been a place for storytelling and sharing. Many host book clubs and various gatherings for people to share story critiques and discussions. But as the world changes, and the practice of sharing evolves through the technological age, the way we share continues to transform. This presents a host of opportunities for surviving and thriving as a digital library today.
Library Facebook Page
A Facebook page connects your library with patrons, and it connects patrons with other patrons. Facebook sharing enables conversations about books worth reading, stories that deserve recognition and thoughts about different content.
Library Google Hangout
A library-sponsored Google Hangout helps facilitate digital book clubs and story sharing. Google Hangouts link up patrons, library staff, teachers and, in some cases (depending on locality and library marketing efforts), even the writers of the stories being shared.
Digital Book Scanners
This technology offers patrons a means for digitizing written materials. With a digital version easily created and accessible (at little to no cost to your patrons), digital scanning makes sharing even simpler. A digital book scanner provides a range of digital sharing options, including email, cloud and Facebook sharing.
Scan To Mobile
Scan-to-mobile technology gives patrons the opportunity to send published and scanned works directly to a mobile device. This enables instant digital sharing.
Goodreads
Many libraries are joining the Goodreads community and introducing their patrons to it as well. This social media site, specifically designed for sharing and communicating on the literary plane, has become a preferred spot for storytellers and story-lovers alike. With options to create virtual bookshelves for what you've read and what you want to read, the ability to rate, review and make recommendations based on your preferences and web-hosted book readings complete with author Q&A sessions, Goodreads is one of the premier social book-sharing resources.
QR Codes On Library Books
This practice is being used in libraries all over. More and more are adding QR codes to the back of their books and media so that patrons are able to scan that code with their smart device and access a myriad of social sharing options and other benefits: reviews, complimentary materials, interactive content, etc. This technology also gives your library access to tracking information, patron interests and interaction opportunities.
Becoming present in the social media and digital sharing world helps libraries to become even bigger sources of information and knowledge. By adopting these practices as a digital library, your facility advances even further into the digital age – which is exactly where you need to be.