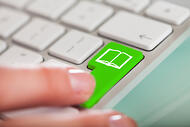 In our progressively digital world, the progressively digital library has emerged. We, as a people, have evolved in response to the digital revolution, advancing with a thirst for technology. The hardcopy method of reading and writing is becoming an idea of the past. Nowadays, e-publishing, digital books and e-reading are the norm.
There are a number of factors driving this evolution, but three specific ones are putting the pedal to the metal:
1. The User
In today's society, people need to have their technology attached to them at all times. And not just your teenagers and young adults. Even the baby boomers have developed a strong bond with digital devices. Most of the population carry their technology with them permanently – usually in the form of a smartphone.
This proliferation of technology use is a direct reflection of the ease with which people now understand and employ various devices. You don't need IT expertise to know how to work an e-reader. The demand for technology has grown as resources have expanded, and even non-IT professionals know the basics of now common technologies. As a whole, people have become technologically literate. And IT support is no longer exclusive to the business world: 24/7 assistance is available for almost any product or service.
These trends have encouraged libraries to respond to the demand for technology. Patrons expect results that are instantaneous, and libraries have taken steps to meet those requirements.
2. The Service
The focus that was once directed toward technology itself has shifted to the individuals using it. Rather than adopting library technology simply for the sake of technology, library management is rightfully focused on providing technology that users need and want. These services are also becoming more user-friendly and easier to obtain.
One of those technological advancements is server virtualization, which allows for a dynamic adaptation of assets within a system. Server virtualization has the ability to change how computer labs are positioned. Virtual labs give users access to software and services from anywhere, at any time. In addition, physical space that was required for computer lab or server rooms is evolving.
Many libraries have already started offering:
Free digital magazine subscriptions
Remote e-book reader rentals
3D printing
Technology lessons
3. IT Providers
The third driving force is the fact that IT providers are adapting to the evolving needs of users. In order for IT providers to be successful, they must stay ahead and continue to develop their services and technology.
This driving force does come with a caveat, however. IT consultants run the risk of progressing too quickly if they push for newer technology that doesn't match what people use and need. From their standpoint, hyperactive progression no longer benefits the growth of IT support, but rather hurts those providers.
Many libraries have already embraced the technological age. They continue to create an increasingly digital library to meet their users' needs. As mentioned, some now provide digital books in addition to their collection of hard books, while others have added computers to their libraries for research purposes, providing users with instantaneous access to information and resources. Some libraries have even adopted 3D printing capabilities, showing an effort to provide patrons with access to some of the most advanced technological resources.
Though research has shown that many patrons still want libraries to carry tangible books for borrowing, people have begun to look at libraries as community spaces to access technology. Libraries are developing into technology hubs, to the point that they're even making an effort to teach IT skills to their communities.
It's clear: The former concept of the library no longer fits your users' interests and needs. The digital library is here.