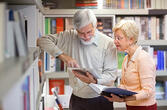 It's no secret that technology and Web applications are second nature to today's youth. But older Americans are less likely to have the technological proficiency needed to navigate computers and the Internet. Academic libraries are providing their communities with educational resources to help these individuals – and they're a larger population than you might think.
The Pew Research Internet Project found that 87 percent of all American adults use the Internet. However, only 53 percent of adults aged 65 or older use the World Wide Web. At age 75+, that percentage drops significantly to 34 percent.
What is standing in their way? Of the group over 75 years old, 68 percent agreed that they would need help before they could start using the Internet. Of the reasons why older Americans are infrequent users of technology, the most common included:
Lack of knowledge
Feeling pressured into learning
Fear of doing something wrong and having bad consequences
Feeling too old to use it
Anxiety over finding documents, files and programs
Technology lingo is harder for them to understand
For many seniors, knowing how to adapt to technology is the biggest roadblock. In The Elderly and the Internet: A Case Study, Dr. Robert J. Campbell and James Wabby of Duquesne University found that many older people were unable to teach themselves the necessary skills to use computers. These skills included getting onto the Internet, knowing the difference between an email and web address and understanding how to use a mouse. Study participants only felt sure of themselves when a family member or friend assisted them. Interestingly, though, their confidence rose when a technology librarian provided support.
That's where academic libraries come in.
Many libraries have found success with offering computer skill sessions – and even more so when providing specific information based on the interests of the group. These courses teach not only the basic skills of using email, browsing the Internet, searching online and using a mouse, but also the reasons why these skills are useful.
Various academic libraries feature classes and programs that highlight important information services specific to seniors, including:
Senior nutrition programs
Senior volunteer programs
Government and community service programs
More general services include:
Job search classes
Using digital photos
Using social media
E-book training
Book scanning
Scan-to-mobile and cloud technology
One-on-one technology training sessions
How to do online banking
Because the recent recession resulted in a massive loss of jobs and a poor job market, many Americans over the age of 50 utilized a digital library and the technology it offers to take classes or pursue a new career through an online university.
Like the trend of online college education, libraries providing their own form of education are an increasingly common community service. The question is: How is your library going to serve the older citizens of your community?
Are you keeping your academic library ahead of the curve and giving 21st-century patrons what they want? Click below to read a free report from Scannx and learn how library evolution is meeting the needs of your patrons.