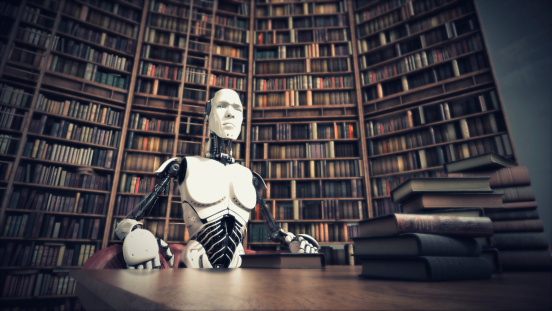 As we've previously discussed, the term "library technology" is one that would have been unfamiliar just a few years ago. But for many libraries, the future is now.
Walk into the Hunt Library at North Carolina State University, and you see the future right before your eyes. The Raleigh, North Carolina, academic library looks like the set of a science fiction movie.
A simple click of a button in Hunt's online catalog summons the bookBot – a state-of-the-art, automated book delivery system – to retrieve your reading material and deliver it directly to you. There is even a space known as "Robot Alley" (not to be mistaken for a space-age Harry Potter reference), where you're able to view bookBots in action behind glass walls.
Such library technology is becoming more of a present-day reality and less of a future ideal.
The Hunt Library has inspired design and technology changes in other libraries as well. Library management and administrators of the NY Public Library, for example, are currently planning renovations with an eye toward Hunt Library for guidance.
Inspired By The Hunt Library: Futuristic Library Technology
The Hunt Library established several technologies at its university library, and you're able to see some of them in action in the video included in this TIME article.
Interactive Exhibit Spaces
Exhibits highlighting local, national and world news and issues

Technology Showcase Area
A space to try out the constantly changing array of devices and technologies available for loan

Immersion Theater
A theatre with a large, curved video display showcasing current events, university initiatives and student and faculty images

Energy Lockers
Lockers equipped with power outlets or charging devices

Learning Commons
Space equipped with interactive computing, gaming and new technologies

Game Lab
Supports the study of digital gaming; features multiple game platforms and a large HD display that is used as one screen or divided into multiple sections

Improved Technology For Standard Operations
Printers, copiers, a book scanner and a vending machine offering everything from pens to USB drives

Tech-Enhanced Seminar Room
Complete with a Perceptive Pixel multi-touch display

Group Study Rooms
Study rooms enhanced by flat-panel displays, web-based video conferencing and cubbies with laptop, power, auxiliary connections, speakers and a touchpad control

Teaching And Visualization Lab
A space with 270-degree immersive projection on three walls, 3D display and cameras for real-time video capture, broadcast and collaboration

Media Production Studios
Offering state-of-the-art tools for creating and editing digital media, including green screen, studio lighting and a 4K video-editing suite

Music Rooms


Equipped for audio recording, creating/mixing music and digital media editing – with an 88-key MIDI keyboard, microphones and digital media workstations
As libraries follow in the footsteps of the Hunt Library, expect to see even more forward-thinking with library technology and services designed to advance learning environments. Such advances alter the classic notions of what a library looks like, how professionals organize, store and distribute information and how library users find, absorb and process information.
While the wild innovations of NC State's university library may be above and beyond the needs of your own library, they are an indication of the types of resources your patrons benefit from. As your library incorporates more technology, make sure it addresses your users' needs.
Are you keeping your academic library ahead of the curve and giving 21st-century patrons what they want? Click below to read a free report from Scannx and learn how to refocus your library for the next generation of students and patrons.