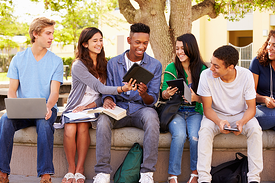 There's been a bit of discussion on what catchy name to assign to the generation that includes today's high school and middle school students, who were born after the year 2000. Suggestions have included Generation Z, the iGeneration, Gen Tech, TwoKays, Screeners, Gen Net, and Digital Natives.
Whatever moniker ends up sticking, teachers and librarians have already noticed that today's 10-18 year-olds are more comfortable with digital sources, touch-screen technologies, and mobile media than they are with heavy books, copy machines that jam, and binders full of paper. As a result, self-service touch-screen scanners—embraced in recent years on college campuses – are now helping to create the new digital high school.
Amador High School in Pleasanton, California, for example, replaced the library copy machine with a Scannx Book ScanCenter, a patented 11x17" book-edge scanner paired with an intuitive 15-inch touch screen display that enables students to scan materials into a variety of formats, including JPG, TIFF, PNG and searchable PDF files. They can preview, crop and rotate the scans, then save them to a flash drive or Google Drive, e-mail them, or use a free QR code reader app to instantly transfer them to a tablet or smart phone.
Students embraced the new technology, saying they like being able to turn papers and books into digital documents that they can read on their computer or mobile phone. "The biggest thing is that we don't hear anything from the students because it's so intuitive," said Amador Teacher-Librarian Erik Sherer. "I think our very first customer walked up and used it with no instruction." In contrast, students constantly had questions about how to use the copy machines. For today's high school students, he said, copiers are as unfamiliar as mimeograph machines were to students of his generation.
The ability to scan to smart phones and tablets – a feature unique to the Scannx Book ScanCenter – is particularly important. A 2013 Speak Up survey, which polled over 400,000 teachers, students, administrators, parents and community members about technology trends in education, found that 89 percent of high school students have access to internet-connected smart phones and 50 percent have access to a tablet device. In effect, that means that most of today's students are carrying personal digital devices in their pockets and purses that are far newer and more powerful than anything a cash-strapped public school can afford to offer. Installing just one Book ScanCenter is an economical way to leverage all those smartphones and tablets to help students take their education mobile.
That's exactly what one Amador sophomore loves about the Book ScanCenter. "I scan pages out of my textbooks so I can work on homework when I'm on the run," she said. "I can just pull up the pages and do my homework or read my materials right on my phone, rather than having to carry around my textbook." She likes the idea of being able to scan to e-mail or USB Drive, but for her, even that is a little old-school. "I don't really carry around a USB Drive," she said. "I always have my phone. And for email, I have to be connected to the internet, but with the (iPhone) app, I can access it even if I don't have an internet connection."
Of course, there are concerns about taking digital learning too far. A 2012 Pew Research survey revealed that teachers worried that students relied too heavily on search engines for research in lieu of respected databases, news organizations, printed books, or reference librarians. They also feared that digital resources can make it too easy to borrow from the work of others.
One suburban-Seattle high school addressed that problem by incorporating a touch-screen scanning kiosk into a digital library curriculum as a way to get students more involved in their research, encourage them to use more sources, and teach them to scan responsibly. Every class gets a lesson in ethical use and attribution. Students are encouraged to start by scanning the verso page (the reverse of the title page) to make sure they have the source's catalog and publication information for proper citation.
The result? Teachers report that more diverse sources and better quality sources are finding their way into student projects and their bibliographies are more complete since the scanner was installed. "It has really breathed new life into our print sources," said one English teacher and librarian. "Kids are more likely to use the books. And they are more likely to quote a source if they can cut and paste it than if they have to retype it. Students used to groan when teachers said they have to have three print sources. Now they don't complain because instead of going to the photocopier, then can go to the scanner and get a nice Word document or JPEG."