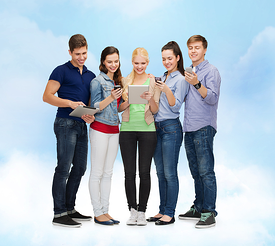 The classroom is moving to the cloud. Driven by technology, increasingly powerful mobile devices, and the modern habits of today's students, more of the information and activities previously found in libraries and classrooms is migrating to web-based store-and-share servers that can be accessed anywhere and at any time. That migration is not only changing how teachers teach and students learn; it's also changing the tools school libraries need to offer their patrons.
How will the cloud change education? In her excellent article, The Classroom and the Cloud: A Bright Forecast for 2020, Edutopia blogger Tacy Trowbridge predicts that, within the next five years, students will benefit from personalized online learning resources – including digital content of their own creation. They will collaborate more, creating learning communities in the cloud. Finally, they will demonstrate their skills and knowledge using digital portfolios, which will travel with them as they move to the next level of their education or professional development.
Educators and Librarians are already seeing these changes in action, and are putting tools in place that make cloud-based learning a richer experience. One essential tool in that effort is an easy-to-use scanner that students can use to transform printed resources – from books and periodicals to classroom notes and research papers – into sharable digital files.
The University of Virginia Law Library, for example, installed two Scannx Book ScanCenter kiosks – one in the reserve room for non-circulating materials, and another near the study rooms. "We assumed that the one downstairs would get the most use," said Communications Librarian Michael Klepper. "It turns out, both of them are getting used equally," as students discover they can use the scanners for exchanging class notes and online collaboration with their classmates and study groups. The easy-to-navigate touch screen enables users to save their scans to USB, e-mail, or directly to cloud sites like GoogleDocs.
As the first self-service scanner that can send scans directly to an iPhone, iPad or other tablet or smart phone, the Book ScanCenter is also an important component of a technology initiative at Faulkner University in Alabama. Since 2012, Faulkner has issued an iPad equipped with University-provided general and discipline-specific apps to every incoming student, with the goal of creating an interactive, collaborative classroom. Now, when student want to create sharable digital content, they use the Scannx touch-screen scanner in the library to select the Scan-to-iPad feature. The Book ScanCenter generates and displays a QR code, and students simply hold their iPad up to the screen, and the scanned image transfers instantly. One librarian said that the combination of iPad and Book ScanCenter has transformed the way Faulkner's students study, learn, and participate in class.
Scannx also makes it easier for students to create the digital portfolios that are already required in some disciplines – like Education majors at Elizabethtown College in Pennsylvania. BethAnn Zambella, Director of the Library, installed a Book ScanCenter after she realized that, in order to create an electronic portfolio, students needed a scanner to get their projects into an electronic format. At the end of the first semester, she got an email from a grateful education student, who wrote: "We also have to prepare a portfolio and I used the new scanner. I think it's new this semester and it is absolutely amazing and so so so easy to use. I love it!"
Effusive gratitude like that is always pleasant. As the classroom and the cloud trend continues, however, having an easy-to-use self-service scanner will be less a cause for amazement, and more of an expected must-have for school libraries.