Scannx Book Scanner Receives Platinum in 2015 Inaugural Modern Library Awards from LibraryWorks, Inc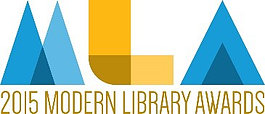 Pleasanton, CA, January 27, 2015 – Scannx, Inc., the largest and fastest growing developer of book-edge scanning solutions in the U.S., is pleased to announce it has received the highest Platinum Award, from LibraryWorks, Inc.'s 2015 inaugural Modern Library Awards (MLA's.)
Library works created the MLAs to recognize top products in the library industry in a truly unbiased format. Products were submitted in the Fall of 2014 using a simple application, and were then posted on a private site with an enhanced description and attendant materials. These products were batched into small groups and sent to the Library Resources Group database of more than 80,000 librarians at public, K-12, academic, and special libraries. Only customers that had experience using the products in their facilities were permitted to judge entries, resulting in a truly unbiased evaluation. Each judge scored the product on a numeric basis from 1-10, and the judges scores were then averaged. Products eligible for awards received average scores above 6.5. Rankings for product awards were then determined by the average judges score received.
Jennifer Newman, associate publisher and MLA program manager said, "It's hardly a surprise that Scannx scored so well. They've been at the forefront of the industry since their company entered the market in 2012."
"We are extremely pleased that library patrons and staff have acknowledged the benefits of Scannx cutting edge scanning technology and customer support," said Murray L. Dennis, CEO of Scannx. "Scannx offers the only document capture solution integrated with cloud services to provide unique capabilities and valuable information." The Book ScanCenter is a self-service book scanning system that replaces copiers in libraries. Since the product's launch in 2012, its users have scanned over 30 million pages, with only 3% going to print. "By going paperless with the Book ScanCenter, library patrons and staff have already saved over 3500 trees, and Scannx has planted 3500 more in American forests through our partnership with the Arbor Day Foundation," added board member and long-time conservationist Becky Dennis.
Its preeminent features are:
Protects the book spine from damage

Autocrops, auto-straightens, and auto-orients text.

Converts text into PDF, searchable PDF and Word file formats.

Scans photos into JPEG, TIFF and PNG formats.

Blackboard and CBORD certified

Advanced Email, network and PIN authentication.

Tracks usage, enables features and pushes updates remotely via the internet.
For more information about Scannx and its products, please visit www.scannx.com.
About Scannx
Scannx, the leading supplier of book-edge scanning solutions for library patrons and staff, has developed powerful, yet easy-to-use, software that works with specialized book, document and photo scanners to replacement copiers in libraries. Scannx Cloud Services tracks usage, enables features and pushes updates remotely via the internet. . Scannx customers have scanned over 30 million pages in the last few years with less than 3% of the pages scanned going to print. The system is integrated with 3rd party debit and credit card payment systems for cost recovery options. Its enhanced authentication options limit access to authorized personnel only.
About LibraryWorks, Inc
LibraryWorks, Inc., helps administrators to make informed decisions about library technology, automation and software, collection development and management, facilities and furnishings, staffing, purchasing, and other areas that drive effective strategic planning and day-to-day operations. Our family of resources can enable you to identify best practices, monitor trends, evaluate new products and services, apply for grants and funding, post or find a job, and even enjoy some library humor.
About the Modern Library Awards program
Modern Library Awards (MLAs), a product-review program designed to recognize elite products in the market which can help library management personnel enhance the quality-of-experience for the library user and increase the performance of their library systems.