Book ScanCenter Flexi Elite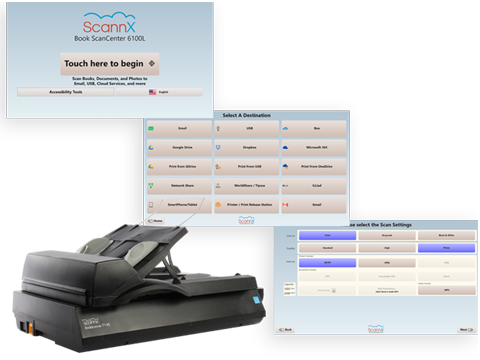 The Affordable Library Book Scanner
The ScannX Book ScanCenter Flexi Elite is the ultimate solution for libraries, students, patrons, and public users looking for versatile, affordable, and efficient book scanners. Whether you're looking to streamline your interlibrary loan process or need a self-serve book scanner for your library, the Flexi Elite is the perfect choice.
Equipped with cutting-edge technology and powerful features, the Flexi Elite can scan and send digitized content to over 25 different cloud and local destinations. With its easy-to-use interface and intuitive controls, anyone can operate the scanner with ease, making it the perfect solution for libraries with limited staffing resources. With its unique book-edge design, it can scan books, magazines, and even fragile documents without damaging them. Plus, the scanner's fast and efficient operation ensures that you can scan even the largest of books quickly and easily. The ScannX Book ScanCenter Flexi Elite is the ideal solution for libraries looking for a versatile, affordable, and efficient book scanner.
Key Features
Converts scanned images to document formats including PDF, Searchable PDF, PDF/A-1a, PDF/A-1b, Encrypted PDF, .Docx (word), and to image formats such as Single Image TIFF, Multi Image TIFF, JPEG (with compression control), PNG, and even audio formats like MP3.
Sends scanned files to over 25 different destinations including email, USB drive, mobile devices, Google Drive, Dropbox, Box, Office 365, OneDrive, network folders, direct to printer, print release station, fax and more...
Integrates with Rapido, ILLiad, Odyssey, Article Exchange, Tipasa, and WorldShare ILL for easy interlibrary sharing.
Captures full pages of text without distortion.
Automatic document feeder (ADF) scans up to 45 pages per minute.
Pages up to 11x17" can lie flat on glass to protect the book's spine.
Powered by ABBYY FineReader Technology with text recognition for over 200+ languages.
Translates text to over 120+ languages.
Easy-to-use software, built in accessibility options, and available in English, French, German, Italian, Japanese, Hindi, Mandarin, and Spanish.
Supports selected ITC and Jamex payment systems and can integrate with all print management solutions and pc reservation software.