Award Winning Document and Book Scanning Solutions
ScannX® is the leading developer of cloud-based BookEdge and Overhead Scanning solutions for libraries. Our book and document scanning solutions provide powerful, yet extremely easy-to-use, copier replacement solutions for scanning books, documents, and photos; and instantly store scanned content in the widest range of digital options. ScannX reduces operating costs, makes printed information instantly accessible, and expands the range of services libraries can offer their patrons.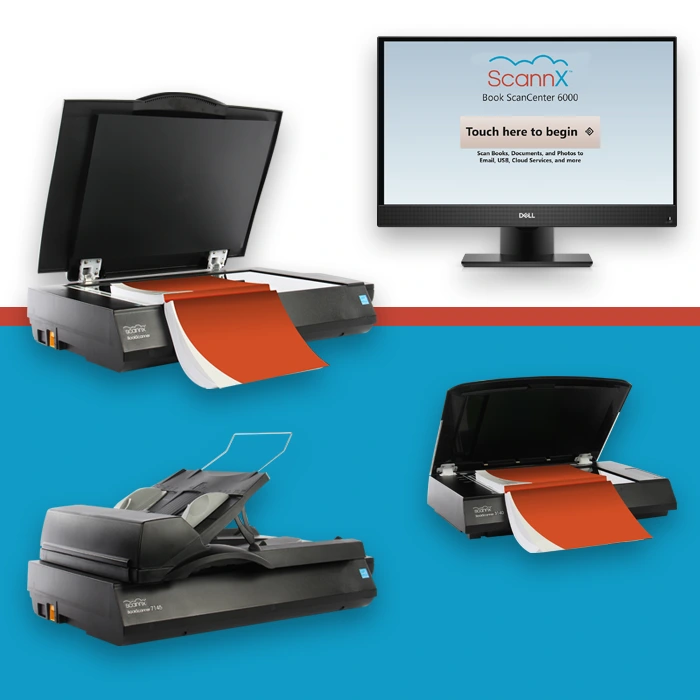 The Industry Leader in Cloud-based Book Scanning
ScannX® systems include IoT technology and cloud-based support that make it simple to scan, store, and send digitized content in multiple file and picture formats to Dropbox, Google Drive, email, smartphones, tablets, as well as to local USB drives or printers, and many more. ScannX Cloud Services include Print from USB drive; Print from google; and Mobile Print offered as an add-on option.
For larger installations, ScannX cloud services aggregate usage data across multiple locations, providing performance metrics and benchmarking. Software updates can automatically be pushed and installed, removing unnecessary technical burdens from library management while ensuring maximum availability.
Versatile Scanning Solutions for Every Scenario
ScannX® offers a broad selection of book scanning solutions, ranging from entry-level BookEdge book scanners designed for use by library patrons, to the industry's most advanced A2 and A3+ preservation systems for archival-quality document retention. All are designed to protect the library's investment in its books, while delivering superior ease-of-use that allows unsupervised patrons to make their own copies and send them to over 25 different local and cloud based destinations.
ScannX® Book Scanning Solutions and software streamline your library's operations to create efficiencies, cut costs, reduce maintenance and eliminate reliance on continuous IT support. But most importantly, ScannX book scanning technology improves the library experience for your patrons and staff.
---
ScannX industry leading book scanning software uses State-Of-The-Art Technology and was the first electronic document management system in the industry to allow scan-to-mobile/tablet capabilities, touchscreen scanning and digital document capture.
---
ScannX Software is Easy to Install and Easy to Use. With our user-friendly interface and 24/7 remote support (if you need it), we help eliminate the librarian's reliance on the IT department and liberating IT from providing continuous support.
---
Get Analytics and Insight in real-time with access to the ScannX Portal.
---
Software that is built around the preservation of library staff and patrons Privacy and Security, including complete compatibility with your IT department's current network, security systems. and virus software.