Award Winning Document and Book Scanning Solutions
ScannX® is at the forefront of innovation, revolutionizing the way libraries and institutions scan documents and books with cutting-edge overhead, book and document scanning solutions. Our book scanning solutions not only provide an unparalleled combination of robust features and simplicity, but they also serve as the ultimate replacement for traditional copiers. By instantly storing scanned content in a vast array of digital formats, ScannX significantly reduces operating costs, while granting immediate access to valuable printed information.
ScannX book scanners open up endless possibilities for libraries to enhance their services and offer both their staff and patrons an even more enriching experience. With ScannX, libraries can effortlessly extend their range of services, allowing staff to save time digitizing course reserves and completing interlibrary loan requests, and Archivists can capture and store picture perfect images. Libraries can offer more services and options to their patrons with an easy-to-use, hands off patron book scanning solution. Gone are the days of waiting in line for a physical copy or dealing with outdated equipment. Our cloud-enhanced book scanning solutions empower libraries to seamlessly provide patrons and staff with a convenient and efficient way to scan, save, and access information.
Mission Statement
ScannX is the leading developer of book and document scanning solutions for libraries. For more than a decade, we built our reputation on combining powerful, state-of-the-art hardware with intuitive, easy-to-use software.
OUR MISSION
We help libraries reduce paper and toner usage with powerful technology that transforms scans into a wide range of digital formats that can then be sent and stored to devices, drives, and services. Our approachable software is easy for library patrons to use without assistance. And by reducing the need for printing, we help libraries meet their sustainability goals, as only a small fraction of scans are printed.
OUR SOLUTIONS
We partner with leading technology suppliers to package and deliver advanced scanning solutions at a broad range of price points, from entry-level book-edge and overhead scanners to the most powerful digital preservation systems. They can deliver content to a variety of digital formats for easy interlibrary sharing. We also integrate with a wide variety of payment, print management, and card systems.
OUR VALUE
Our patron-facing solutions are designed with an intuitive, touchscreen-based user interface that minimizes the need for staff assistance. For archivists and book preservation, we provide the most advanced scanning technology based on precision Zeutschel hardware. And all of these are built around a cloud infrastructure that provides significant visibility and power for administrators.
OUR PROMISE
For nine consecutive years, ScannX has been recognized by Modern Library Awards for our innovative hardware and software solutions and excellent product support. We do not take that for granted. When you buy a system from us, it is just the start of our relationship. We do everything in our power to make and keep our customers happy.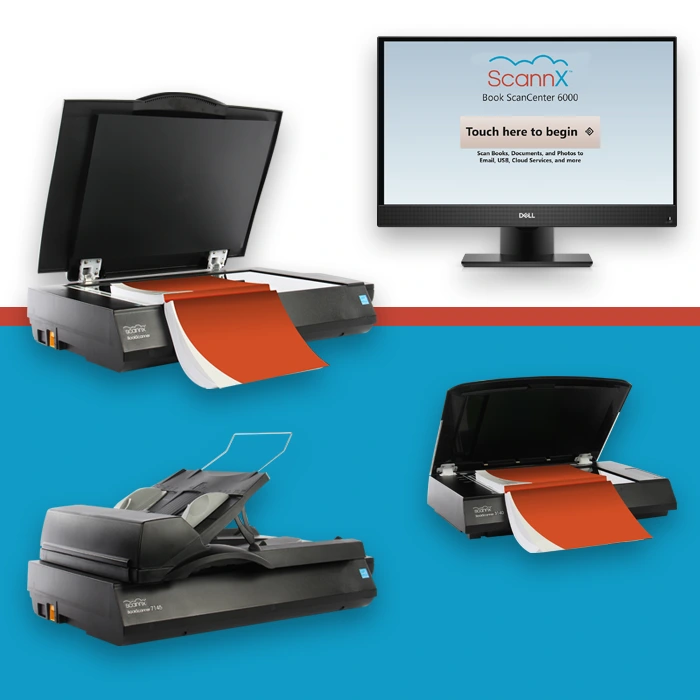 The Industry Leader in Library Book Scanning Solutions
ScannX® cutting-edge book and document scanning systems utilize innovative IoT technology and cloud-based support, revolutionizing the way you scan, store, and send digitized content. With seamless integration to popular platforms like Dropbox, Google Drive, email, smartphones, tablets, USB drives, and printers, the possibilities are endless. Additionally, ScannX Cloud Services offer convenient options such as printing directly from your USB drive, printing from Google, and even mobile printing as an optional add-on.
For larger installations, ScannX cloud services go above and beyond by aggregating usage data from multiple locations, providing invaluable performance metrics and benchmarking. Say goodbye to tedious manual updates - our software updates can be effortlessly pushed and installed, lifting the burden of technical complications from library management. Rest assured, ScannX ensures maximum availability and efficiency every step of the way.
Join the digital revolution and let ScannX transform the way your library operates. Experience the power, simplicity, and cost-saving benefits of our cutting-edge scanning solutions. With ScannX, your library can become a hub of knowledge, offering staff and patrons an unparalleled experience in digitizing, accessing and preserving printed information.
Versatile Scanning Solutions for Every Scenario
ScannX® offers an extensive range of cutting-edge book scanning solutions, including user-friendly BookEdge book scanners for library patrons and top-of-the-line A2 and A3+ preservation systems for preserving your rare book and documents with the highest quality standards. Our solutions not only safeguard the library's valuable book collection but also empower unsupervised patrons to effortlessly create their own copies and conveniently send them to over 25 local and cloud destinations.
With ScannX® Book Scanning Solutions and software, your library's operations will be streamlined, costs reduced, maintenance minimized, and the need for continuous IT support eliminated. Most importantly, our advanced book scanning technology enhances the library experience for both patrons and staff.
---
ScannX industry leading book scanning software uses State-Of-The-Art Technology and was the first electronic document management system in the industry to allow scan-to-mobile/tablet capabilities, touchscreen scanning and digital document capture.
---
ScannX Software is Easy to Install and Easy to Use. With our user-friendly interface and 24/7 remote support (if you need it), we help eliminate the librarian's reliance on the IT department and liberating IT from providing continuous support.
---
Get Analytics and Insight in real-time with access to the ScannX Portal.
---
Software that is built around the preservation of library staff and patrons Privacy and Security, including complete compatibility with your IT department's current network, security systems. and virus software.