Digitizing books and documents has never been easier thanks to ScannX Overhead Scanners. These revolutionary, low-cost scanners are designed specifically for libraries, making book scanning a breeze. With just a few clicks, the ScannX Software automatically crops, flattens, and splits each page of a book, even removing your thumbs from the images. Designed with library patrons, staff, and institutions in mind, ScannX Overhead Scanners provide an advanced and easy-to-use solution to digitize content. Plus, with the versatility to send your scanned material to over 25 different local and cloud-based destinations, these scanners offer flexibility like never before. Deployable in all scanning scenarios, from public-facing areas to back-end interlibrary loan departments, ScannX Overhead Book Scanners are the perfect solution for scanning books, magazines, documents, or any A3 sized material.
Overhead Book Scanners for Libraries and Institutions
The ScannX Overhead Scanner 2800V is an advanced, versatile, easy-to-use overhead book scanning solution that delivers advanced features and performance for library patrons, students, and staff. This powerful overhead book scanner is the perfect solution for digitizing books and documents in any library setting.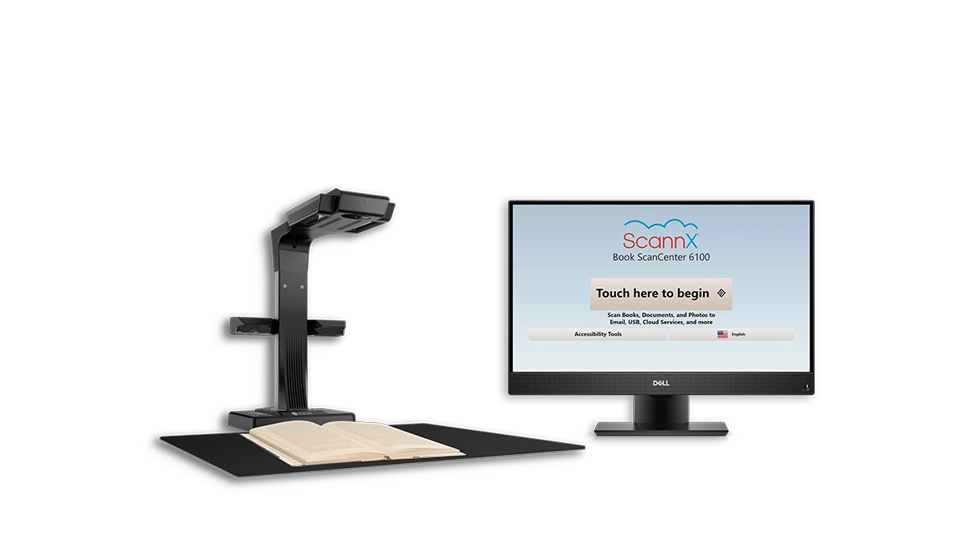 Exclusively offered by ScannX, the Overhead Scanner 2500 by ScannX is an affordable, easy-to-use overhead scanning solution for libraries and institutions. This versatile overhead scanner is designed to work in both patron-based public access locations as well as back-office areas for ILL tasks.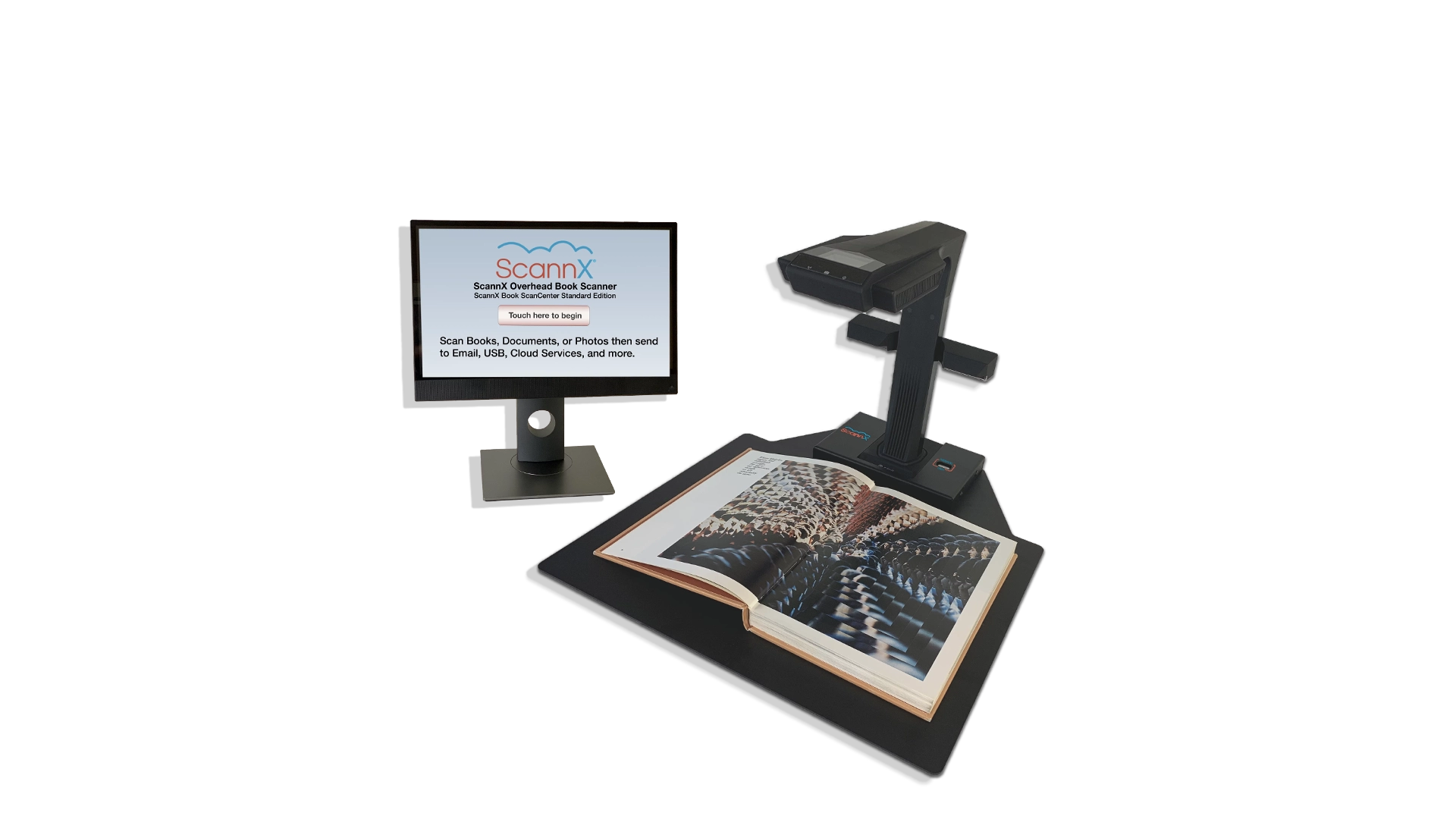 The Overhead Scanner 1800 by ScannX is a powerful and robust, yet easy-to-use and affordable overhead book scanning solution for libraries and institutions. Perfect for patron facing areas and public spaces in libraries. Special discounts available for K-12 libraries.
Overhead Scanners for Home Users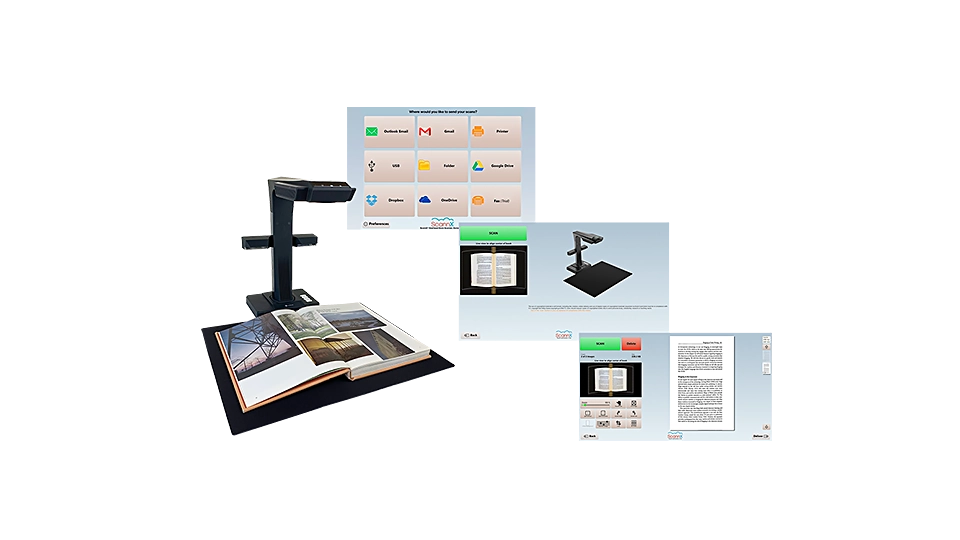 The Overhead Book Scanner | Home Edition is a powerful, yet affordable solution to quickly scan and grade student essays, preserve comic book collections, or scan important documents while working remotely. Designed specifically to meet all your scanning needs at home.
CZUR Overhead Book Scanners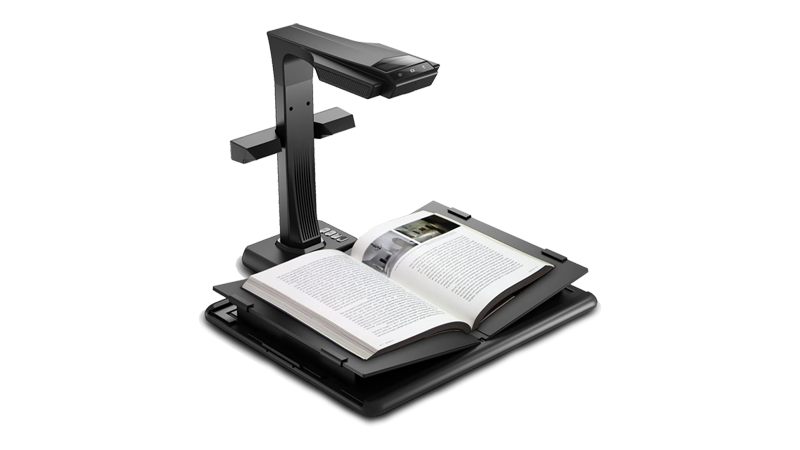 Experience the ease of scanning books with the CZUR M3000 Pro V2 scanner - it's as simple as turning a page. With its patented curve-flattening technology that uses tri-laser scanning and advanced contour analysis, every curved page is rendered to that of a perfectly flat book, allowing even non-technical users to enjoy flawless, flat scans. See how the 28MP camera creates picture perfect images. Integrated with a V-Shaped book cradle, the M3000 Pro v2 by CZUR is unmatched in quality, ease-of-use, and price.
The CZUR ET25 Pro overhead scanner revolutionizes the scanning experience. Featuring upgraded and patented 3rd generation curve-flattening technology, page auto-focus, auto page-turning detection, auto page splitting, an upgraded 25MP Sony image sensor for higher color accuracy and image quality, a sidelight to reduce reflection, an HDMI port for "Presenter Mode", a foot pedal, multiple-color modes, AI graphic optimization and much more. Advanced technology at an affordable price.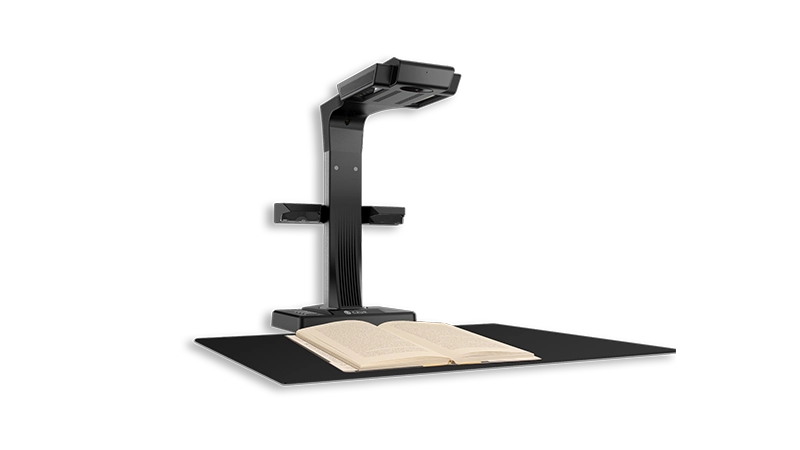 Unlike any other traditional scanners, the CZUR ET18 Pro is a versatile overhead scanner that makes book and document scanning easy. The CZUR ET18 Pro overhead scanner revolutionizes the scanning experience by combining advanced and intelligent technology with ease of use at an affordable price. Featuring patented 2nd generation curve-flattening technology, auto-focus and auto page splitting, page tilt correction, multiple-color modes, 18MP Sony image sensor, a sidelight to reduce reflection, and more.