Products
ScannX book-edge systems combine an intuitive interface with a scanner that enables you to easily digitize books without putting additional pressure on the spine or getting a skewed scan. No matter what scanning needs you have, we've got you covered.
The ScannX Book ScanCenter family of products is the choice of libraries because its large friendly buttons guide the user through the scan process from choosing file formats, to scan quality, color depth, file naming, and destinations.
ScannX has partnered with Zeutschel, the world leader in digitization and preservation solutions for valuable assets, to combine our document delivery software and cloud services with their A2 and A3+ advanced book scanning solutions.
Learn more about Zeutschel scanners powered by ScannX Software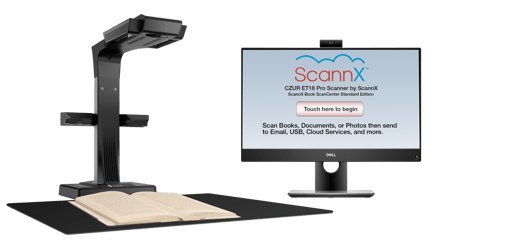 In addition to the four Zeutschel overhead scanners that run the powerful ScannX software, ScannX offers the CZUR ET18 Pro and the Fujitsu ScanSnap SV600.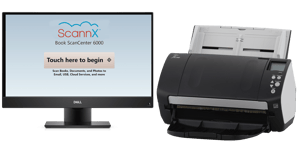 The ScannX Document ScanCenter is comprised of a ScannX touchscreen PC, a Fujitsu color Sheetfed scanner, and the ScannX ScanCenter software.
---
---
---