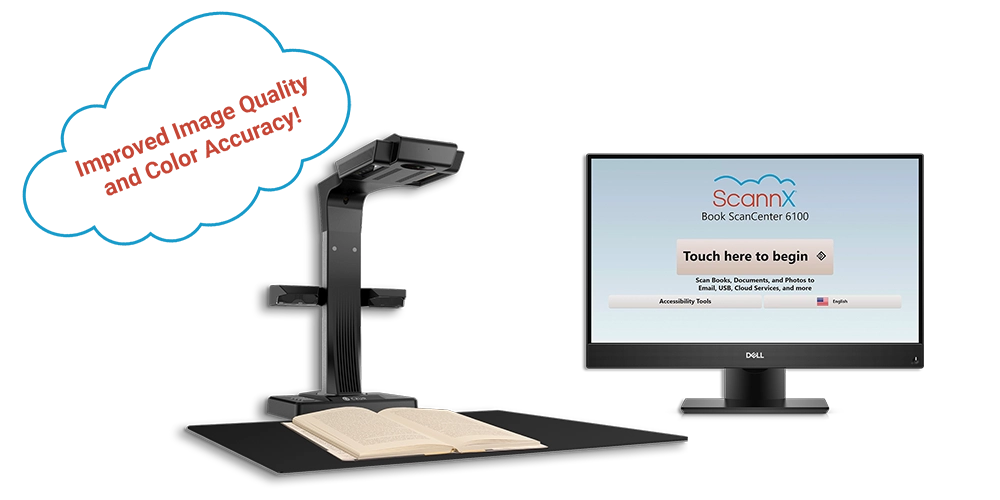 The Robust and Affordable Overhead Book Scanner
Introducing the ScannX Overhead Scanner 2500, the ultimate solution for libraries in search of an affordable, user-friendly, and powerful book scanning device. This state-of-the-art technology revolutionizes the way books are scanned with just a simple flick of a page. With each scan, the advanced features of this overhead book scanner automatically straighten, orient, crop, and flatten every page, eliminating the need for manual adjustments. Gone are the days of fingers appearing in scans or struggling to separate left and right pages. The result? An incredibly affordable and robust overhead book scanning solution that consistently delivers flawless scans.
But don't be fooled by its impressive feature set, this cutting-edge scanner is incredibly user-friendly. Designed with ease-of-use, versatility, and flexibility in mind, it can be seamlessly integrated into various scanning environments. From patron and student scanning to interlibrary loan departments and course reserve scanning, this scanner does it all. Experience the convenience of digitizing your books and documents with lightning-fast speed, scanning pages in just 3 seconds each. Even dual-facing book pages or A3-size documents are effortlessly captured with exceptional quality.
Upgrade your scanning experience today with the ScannX Overhead Scanner 2500 and discover a whole new level of efficiency and precision.
Key Features
Ultra-fast scans in three seconds per page, with no pre-scan required

25MP Sony CMOS Image Sensor with an Optical Resolution of 330DPI, with interpolation up to 600DPI

A unique hardware design that features overhead scanning to capture face-up books up to 17" x 11" in size, and up to 3" thick, and documents up to 18" x 14"

Advanced page-flattening algorithms that transform pixels from a 3D, curved surface to a completely flat undistorted image

Innovative ThumbErase™ automatic digital thumb removal technology for scan-perfect results

Integrated GlareFree™ side lighting delivers perfect scans of glossy documents that are hot-spot free

Converts scanned images to PDF, Searchable PDF, PDF/A-1a, PDF/A-1b, Word, JPEG, TIFF, PNG, and MP3 file formats

Sends scanned files to over 25 different destinations including email, USB drive, mobile devices, Google Drive, Dropbox, Box, Office 365, OneDrive, network folders, direct to printer, print release station, or fax

Integrates with Rapido, ILLiad, Odyssey, Article Exchange, Tipasa, and WorldShare ILL for easy interlibrary sharing

Powered by ABBYY FineReader Technology for unmatched OCR accuracy

Translates text to over 90+ languages

Easy-to-use software, built in accessibility options, and available in English, French, German, Italian, Russian, Japanese, Hindi, Mandarin, and Spanish

Supports selected ITC and Jamex payment systems and can integrate with all print management solutions and pc reservation software

Security stand to protect the scanner when used in public settings
ScannX Overhead Book Scanners are integrated with the ABBYY FineReader Engine for unmatched accuracy. ABBYY's multi-lingual document recognition engine automatically detects English, French, Italian, German, and Spanish languages. Customers may upgrade to the company's OCR pack which can detect 200+ languages.
Security Stand
The Overhead Scanner 2500 ships with a custom security stand manufactured by ScannX to protect the scanner from theft in high traffic areas. It is easily installed in minutes, fits the scanner perfectly, and can be attached to a table for further protection.
ScannX designs its products with accessibility built-in from the ground up. The touchscreen interface is designed for ultimate ease-of-use and includes contrast and magnifying tools for the visually impaired. Audio narration is built in. And the selection of scan controls includes a simple touch on the display, a desktop button for the hand, or a foot pedal to keep the hands free. We also offer a 48" x 30" height adjustable table to meet additional ADA compliant requirements.
The system also helps you meet your environmental goals by allowing your scans to be sent to or stored on a variety of media, rather than printing. The Book ScanCenter Standard Edition software includes output to email, Google Drive, mobile devices, network, print, USB drive, and Wēpa. Add-on options include Article Exchange, Box, Dropbox, fax, ILLiad, Odyssey, Office 365, OneDrive, print from cloud or USB drive, print from mobile device, Tipasa, and WorldShare ILL. Translation into multiple languages is also available.
Scannalytics tracks usage statistics, enables features remotely, and distributes updates. IT and Accounting departments can use these reports to manage and optimize asset utilization and department chargeback fees.
Supported Billing Systems
The Overhead Scanner 2500 supports ITC and Jamex coin and debit/credit card systems. It also works with leading print management vending systems including Pharos, EnvisionWare, and P-Counter. ScannX systems also support card systems from Blackboard and CBORD.
ScannX Overhead Book Scanner hardware is backed by a one-year manufacturer's warranty that can be upgraded and extended through ScannXtra Care® for as long as you own the system and is supported by ScannX US based technical support and customer service teams.