ScannX New 6.0 Software: The ScannX Advantage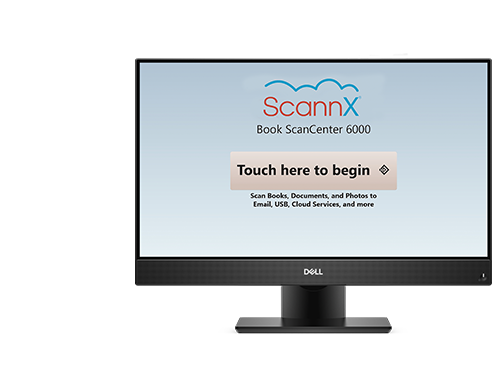 The combination of our industry-leading overhead and book-edge scanning hardware, intuitive and approachable software, and robust and scalable cloud services has led to ScannX being recognized by the Modern Library Award for providing the best user experience for the last six consecutive years.
The cornerstone of our value is our intuitive scanning software, which helps library patrons and staff members reduce their printing by 96 percent, which saves paper, toner costs, and trees. Our Book ScanCenter 6.0 Software delivers even more value than ever before. The software is available in three editions to suit your most demanding library needs:
---
ScannX Book ScanCenter 6.0 Standard Edition:
Easy-To-Use touchscreen interface guides user through the scanning process

Auto crop, auto-straighten and auto-orient text-based images
ABBYY's FineReader v12 Engine for unmatched OCR accuracy - NEW v12 Upgrade!

Fast - No post processing required. Scans one page and OCRs the previous page simultaneously.

Send scanned files to email, USB drive, Google Drive, mobile devices, network folders, Wēpa, FamilySearch, and printer.

Converts text into PDF, PDF/A, searchable PDF, Word, and MP3 file formats

Converts photos into JPEG, TIFF and PNG formats
Reorder images, and insert new images during the scanning process

Optimize brightness, color, and saturation

Zoom, crop, rotate; split horizontal/vertical, and fit-to-page image editing tools

Protects confidentiality by not saving scanned content or email addresses

Advanced security with CAS, 2-Factor Authentication, and Mobile Device Authentication

Accessibility tools for visually impaired including audio narration, text magnifier, and high contrast

Supports up to 3 simultaneously ScannX-certified scanners from Fujitsu, Xerox and ScannX

UI localized into English, French, Italian, German, Spanish and Russian

ScannXtra Care optional warranties protect your software investment for up to 5 years with software updates, upgrades, technical support, and access to ScannX Cloud Services
---
ScannX Book ScanCenter 6.0 Professional Edition:
Includes all the above features of the Book ScanCenter 6.0 Standard Edition, plus:*
Send scanned files to Box, Dropbox, Microsoft 365 and OneDrive

Scan in Full-bed mode in addition to auto crop mode -

NEW!

Print from the Cloud and from USB drive -

NEW!

Split Vertical – BOTH right-to-left and left-to-right -

NEW!

Create TIFF and searchable PDF dual file formats in a single scan -

NEW!

Reproduce text with exceptional black and white image quality for archiving -

NEW!

Software connectors to scan directly to Article Exchange, ILLiad, Odyssey, Tipasa, & WorldShare ILL
---
ScannX Book ScanCenter 6.0 Software as a Service (SaaS): **
Mobile Print allows users to print files accessed from their mobile device -

NEW!

Faxing over Internet, no telephones lines required

Digital Translation scans and automatically translates text into one of 60+ selectable languages


---
ScannX Cloud Services:
Delivers reliability, redundancy, privacy, and security via Microsoft Azure

Tracks usage by serial number, scan-to destination, file format, and time of day
Identifies under-utilized systems for redeployment to more active locations
Sets usage targets to schedule preventive maintenance
Reports error logs to ScannX who can then identify and fix recurring issues before they spread
Enables features remotely for either activation or for trial period
---
ScannX Software Solutions:
Customize your system to suit your unique needs
---
Accessibility for Visually-Impaired Users
Accessibility tools in our software were designed to assist blind and visually impaired individuals as well as struggling readers who face unique barriers when attempting to access information from books and other printed library resources. This feature also increases the availability of books and documents to readers for whom English is not their native language, as well as enables users to bring audio content to mobile devices.
Features At A Glance:
Audio narration to guide patrons through the scanning process.
High-contrast viewing mode
On-screen text magnifier
Convert text into MP3 audio format and save it to a USB drive for later listening
---
ABBYY OCR Pack
Optical Character Recognition (OCR) converts different types of documents, such as scanned paper documents, PDF files, or images into editable and searchable data.
ScannX has embedded the ABBYY FineReader technology into its Book ScanCenter to provide unmatched optical character recognition (OCR) accuracy.
By default, ScannX includes OCR technology that recognizes English, French, German, Italian, and Spanish text. This ABBYY FineReader engine upgrade recognizes 189 languages for OCR.
---
Enhanced Authentication
Control access to features and scan-to destinations by requiring user authentication prior to use. Enhanced authentication allows the IT department to enable selected individuals to access secure scanning destinations. Authentication feature also prevents sending of anonymous emails.
Features At A Glance:
PIN Code Access
LDAP Authentication
SMTP Authentication
Customizable Welcome Message
Manage pricing discounts by group membership
---
Fax Services
Sending documents and images via fax has never been easier with the scan-to-fax functionality on the ScannX Book ScanCenter. The cloud-based faxing service allows faxing to domestic and a limited number of international phone numbers. A built-in cover sheet is sent on all faxes, and a confirmation email can be sent to the user when the transmission is complete.
---
Fleet Management
ScannX software includes reporting that provides a detailed look at both destination usage, as well as volume of scanned pages over time. These reports can be configured for automatic delivery on various timelines. Our system activity reports provide details of hourly usage statistics over time, across all systems or on a per-system basis.
---
ILLiad and Odyssey Interlibrary Loan Connectors
InterLibrary Loan (ILL) allows patrons of one library access to materials at another library, either by physical or digital delivery. ScannX has partnered with Atlas systems and OCLC to simplify the InterLibrary Loan fulfillment process.
With the ScannX software, the delivery process no longer requires a specialized system. Simply scan the pick sheet on the ScannX Book ScanCenter which detects the TN number automatically. Then the library staff scans all pages requested, presses Next, and the rest of the delivery is automated.
---
Mobile Authentication
Give your users the option to authenticate their cloud-based account credentials (such as Google or Office 365) via their mobile device instead of logging in using username and password each time. After the user chooses to "opt-in" the first time, authentication is very quick and easy on subsequent uses of the ScannX software.
---
OCLC Article Exchange Connector
This connector enables library staff to send large scanned files directly to Article Exchange for delivery to subscribing libraries with a simple touchscreen selection.
This ScannX link authenticates to the Article Exchange (AE) service, uploads image format files (PDF, sPDF, TIFF, JPEN and PNG), and receives a tiny URL and password back from the AE service. The ScannX software will then populate the email message with the tiny URL and password for delivery to the recipient.
---
OCLC Tipasa/WorldShare
OCLC Tipasa is the world's first cloud-based interlibrary loan management system. It allows you to manage a high volume of interlibrary loan requests, automate routine borrowing and lending functions, and provide an enhanced patron experience. WorldShare ILL integrates discovery and delivery of electronic, digital and print materials within a single interface.
The ScannX Book ScanCenter allows you to seamlessly attach scanned images with an OCLC Request ID. Either by scanning an OCLC-generated barcode or entering the Request ID manually, scanned images will be linked to a Request ID associated with your OCLC account. Then, simply login to your OCLC account and send the image back to the requesting library. Your process is now streamlined and simple for anyone to use!
---
Print Management
This print and copy management system enables departments to monitor both printing and copying activity to ensure you maintain control over printer and copier costs, reduce operating expenses, control printer usage, curb paper waste, and offer more sustainable output formats.
---
Reliability/Security
Legal protection, patron privacy, and computer security are key concerns for libraries that provide public access computers (PACs). This online access is an integral offering for libraries, but also a resource that adds another level of threats and concerns to manage. ScannX delivers protection from these threats by:
Deploying across the secure, global Microsoft Azure architecture
Instituting a portable, multi-VM/DB redundant architecture
Delivering 99.997% uptime (for more than 7 years)
Preventing the system from sending anonymous emails or being hacked
Protecting patron privacy
It is important that PACs contain security features designed to detect when users leave their PC but forget to log out and ensure that their personal files and information are cleared from the station to protect their privacy. Libraries also need to control the amount of time that patrons can access computers to ensure that all patrons get a fair chance to access these services.
---
Securing Public Access Computers
Computers should be physically secured for use. It is important to visually inspect the computers at regular intervals to make sure no devices have been attached to record keystrokes. These devices may look like part of the keyboard plug and can record keystrokes for up to 12 months and they are undetectable to scanning software.
Another consideration is the Basic Input/output Settings (BIOS), which boots the computer. The BIOS settings on ScannX-supplied PCs are password protected and the boot order starts with the internal hard drive and, if possible, any other boot option should be removed. This is to prevent someone from booting from a CD, Floppy, or USB drive which could allow them to steal passwords, alter the computer settings or gain access to the network resources.
---
ScannX systems are
Global, Secure, Private, Scalable and Redundant
GDPR Compliant, Article 17 implemented
Able to purge all information automatically at end of each session
Equipped to send content securely to the cloud, if desired
---
Remote Diagnostics and Support
ScannX systems are deployed across large institutions and can be managed by staff members that are not even in the same physical location as the scanners. The system was designed to empower remote IT and support personnel through:
Configuration management
Device profile administration
Preemptive error correction (helps staff fix issues before they become apparent)
Remote system updates
---
Scannalytics Usage Reports
Part of ScannX Cloud Services, system activity reports track when and how systems are used, with usage data and graphs that provide details of hourly usage statistics for the current and prior week across all systems or an individual unit.
These usage reports provide a detailed look at destination use and volume of scanned pages over time, and can be configured for automatic delivery on a weekly, bi-weekly and monthly basis.
The reports enable you to:
View information online at any time, from any device, anywhere
Track usage to assess and monitor system ROI
Email usage statistics to designated contacts
Monitor vending solution revenues
Manage warranty renewals
Redeploy systems to most active locations
Set usage targets to schedule preventive maintenance
---
ScannX Software Upgrade
Save time and money by upgrading your TBS or iVina book edge scanner systems to the latest ScannX software and cloud services. The ScannX Book ScanCenter software can easily be installed on your existing touchscreen PCs (minimum i3 processor, 4GB RAM, Windows 10 Pro) to provide you with the latest in world-class scanning software on hardware that you already own. The software upgrade also includes access to ScannX Cloud Services so you can track usage, view scanner activity, and manage warranty data using your ScannX Portal account.
---
Secure CloudPack
The Book ScanCenter Standard Edition (SE) software package includes secure access to Google Drive and Gmail for users. Secure access requires users to provide username and password to their cloud-based accounts before uploading scanned images to insure they are safely stored. Expand your offering to include secure authentication and uploading of scanned images & documents to Box, Dropbox, MS OneDrive, and MS Office 365 by purchasing the Secure Cloud Pack.
---
Translation Services
The ScannX Scan-to-Translate service enables users to scan a document and have it automatically translated into up to 100+ different languages instantly. ScannX integrated its document capture software and cloud services with Microsoft Translate and Google Translate cloud services.
As a result, the ScannX software securely and automatically uploads scanned documents to either translation cloud service and returns the original plus the translated version as two separate Word attachments in one email, or stores them as two separate Word files in Google Drive, Microsoft OneDrive, or USB drive folders.
Since translation services may not provide an exact translation, the Word (.DOCX) file format allows the user to edit/correct any errors. Preliminary estimates by libraries and law firms see Scan-to-Translate forecast a 60-80% savings in data input.

Download the Translation Services Data Sheet
---
ScannXtra Care optional warranties protect your software investment for up to 5 years with software updates, upgrades, technical support, and access to ScannX Cloud Services.
*Features also available as a paid option for Standard Edition software licenses
**Requires ScannXtra Care software assurance coverage