Scannalytics: Smart Book and Document Scanning Solutions
Streamline Your Library Operations With Scannalytics™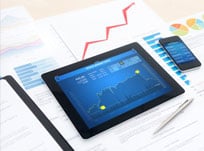 Scannalytics gives you the insight to improve your library's operations. With real-time reporting and tangible metrics, this book scan analytics system gives you clear insight into your library's workflow. See where your operational strengths are, as well as where to enhance document management efficiency.
---
Smart Scanners
By evaluating the data collected by ScannX® book and document scanning solutions, you see the points at which your book scanning operations must be strengthened with additional document capture equipment.

---
Actionable Insight
Get insight into your library's busiest times, when patrons are likely to face frustrations and long lines. Reallocate under-utilized systems to the busiest locations.

---
Bottleneck Elimination
Reduce the amount of time each user is at a machine during these efficiency bottlenecks with seamless document transmission to third-party devices and systems (like USB, email, multifunction devices, etc.), delivered in preferred file format and enhanced with auto configuration and image cropping.

---
Clear Communication
During the first three months with your ScannX Book ScanCenter™, our team sends you emails with informative tips on how to leverage your new library technology and further enhance your library's efficiency.

---
Analytics For Improvement
Once your book scanners have been in operation for three months, our Scannalytics team reviews your scanners' metrics and contacts you for a free consultation. During this consult, ScannX gives you customized action items for process improvement.

---
Designed For Libraries by Librarians
Whenever possible, we ask for your honest feedback on how ScannX book and document scanning solutions has impacted your library's document workflow and operational efficiency. Your feedback provides our product development team with the actionable direction needed to improve our products' efficiencies and guide future innovations.