ScannX Book-Edge Scanning Solutions
ScannX book-edge systems combine an intuitive interface with a scanner that enables you to easily digitize books without putting additional pressure on the spine or getting a skewed scan. We have two TurnKey and three bring your own PC (BYOPC) models available:
---
Turnkey Book-Edge Solutions:
The ScannX Book ScanCenter Elite is designed for high-volume high-traffic areas where productivity and image quality are paramount. The state-of-the-art, book-edge unit can scan an 11x17" page in 200dpi black and white in under 5 seconds. Now libraries can replace their toner-based copiers with this more environmentally-friendly option.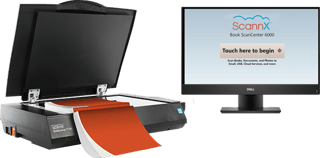 The ScannX Book ScanCenter is the choice of libraries because its large friendly buttons guide the user through the scan process from choosing file formats, to scan quality, color depth, file naming, and destinations.
---
Bring Your Own PC (BYOPC) Solutions: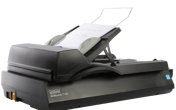 The Book ScanCenter Flexi Elite is a low cost, high speed, easy-to-use self-service scanning system for books and documents. The Flexi Elite includes the Book Scanner 7145 book-edge scanner, an automatic document feeder, Scannx capture software, and the ABBYY OCR Fine Reader Engine for unmatched optical character recognition accuracy.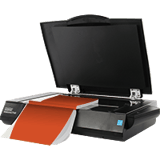 The ScannX Book ScanCenter Flexi is the industry's most affordable, easy-to-use, large format book scanning solution for library patrons and staff. Designed with large friendly buttons, its software easily guides the user through the complete scan process.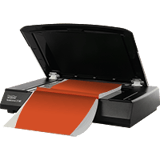 The ScannX Book ScanCenter Flexi Lite is the industry's easiest-to-use, self-service book scanning solution for library patrons and staff. No other small format book scanning system offers its ease-of-use, advanced image processing features, and cloud services at this price.