Zeutschel OS 12002 Large Format Scanner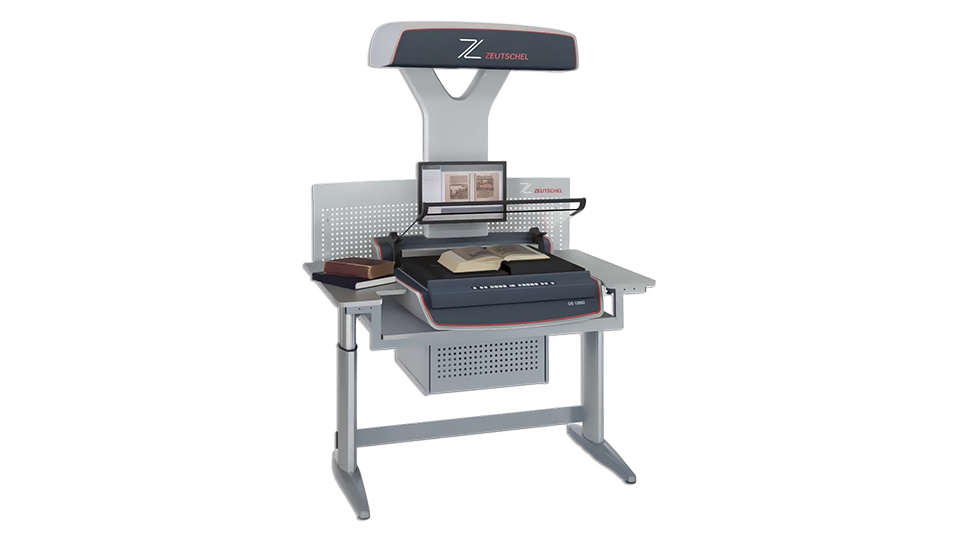 The All-In-One Archival Scanning Solution For Future-Proof Digitization
The Zeutschel OS 12002 is the perfect A2+ large format overhead book scanner that delivers a 600 DPI color scanning experience that boasts incredibly high scan speeds, outstanding image quality, ease of use, book friendly scanning, security, reliability, and cost effectiveness. Available in both Comfort and Advanced models through ScannX, this archive- centric system is perfect for large-size documents, as well as valuable books and maps.
The Comfort edition features a manual comfort book cradle, and the ability to scan books up to 4" thick. The Advanced edition features a glass plate that automatically opens after scanning, with an adjustable angle of up to 90 degrees, and can scan books up to 4" thick with the glass plate, and up to 6" thick without the plate.
---
24.5" x 18" scan area (A2)

Scans quickly at 3.8 seconds at 400 DPI

Up to 600 DPI color

Perfect Book software straightens text, thumb removal

Independent of ambient light, only illuminates when scanning

Eliminates reflections with glossy media

Converts scanned images to BMP, GIF, JPEG, PDF, PNG, and TIFF file formats
The design of the Zeutschel OS 12002 book cradle protects the spine of the book from damage to extend its life. Each side of the book cradle can raise and lower to compensate for the thickness, and the center depresses protecting the spine of the book. The Advanced edition also includes a glass plate that opens automatically after each scan.
The included OmniScan Scan software (OS 12) provides a simple to operate digitization tool that delivers impressive results. It easily stores a range of different configurations so you can process repetitive jobs much more efficiently. OS 12 with Perfect Book software features intelligent document recognition with book-fold distortion correction, page straightening, finger removal and page separation.
Service and Support You Can Count On
ScannX provides onsite installation and training, and ongoing support with its U.S. based customer support teams. With ScannXtra Care coverage, ScannX provides annual on-site maintenance to protect your investment, including calibration and cleanings, to extend the life of the equipment and ensure the best image quality results.