Zeutschel OS 12002 Large Format Overhead Scanner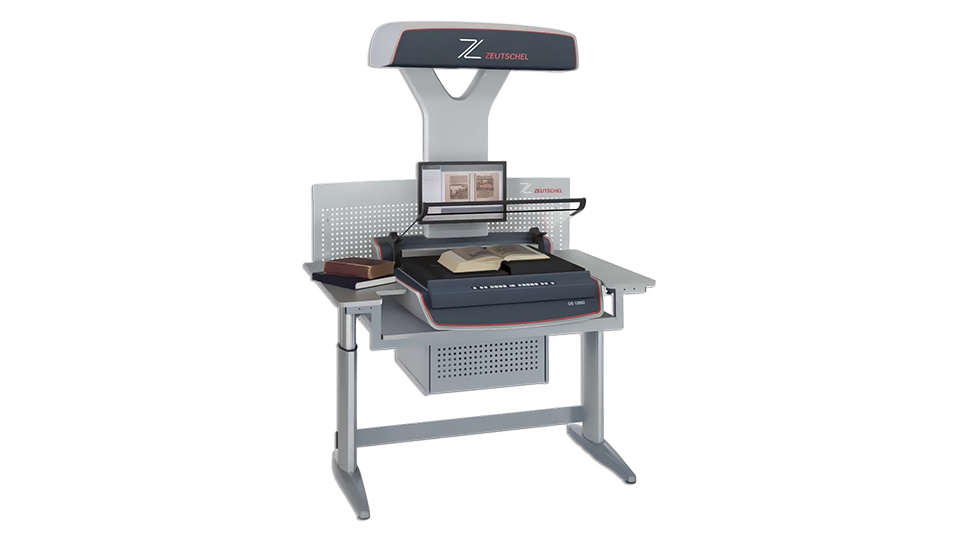 The Archival Scanning Solution For Future-Proof Digitization
The Zeutschel OS 12002 large format overhead scanner – the perfect solution for digitizing and preserving large volumes of documents, books, and manuscripts. This high-performance large format overhead book scanner is designed for professional archival scanning applications, making it an essential tool for libraries, archives, and research institutions.
With two available models, the Comfort and Advanced, the Zeutschel OS 12002 scanner offers a range of scanning modes to handle a wide variety of document types. The scanner's high-resolution camera and advanced software automatically correct distortion and optimize image quality, ensuring that every detail is captured in stunning clarity. Capable of capturing images up to 600 dpi, the Zeutschel OS12002 scanner is gentle on delicate materials and perfect for archival scanning.
The Comfort model offers semi-automatic scanning, employing a book cradle that is gentle with books, and designed to walk up and quickly digitize your material. The Advanced model offers fully automatic scanning for maximum efficiency by utilizing a glass plate with a book cradle, designed for archivists. With its innovative design, the Zeutschel OS 12002 large format overhead scanner is capable of handling large format documents and is the perfect tool for digitizing and preserving your collections.
Scan area: 24.5" x 18.1"

Scan mode: Color; 4 channels, RGB- Color and Grey in total 43200 Pixel

True color processing: 42 bit , 14 Bit grayscale,1 bit b&w

Maximum resolution: 600 ppi

Scan speed: 4 sec /400 ppi

Auto focus: approx. 2 Inches

User software: Omniscan 12 / 64 bit

Maximum book thickness: 3.93" Inches with glass plate, 5.90" Inches without glass plate

Output Formats: all the standard image formats, for example, TIFF uncompressed, TIFF G4, JPEG, JP2, Multipage TIFF, PDF, Multipage PDF, BMP, PNG, GIF, PCX

Operating System: Windows 10

Dimensions: (w x d x h) 39.1" x 34.6" x 51.6 Inches

Workspace: (w x d) 27.5" x 28.3" Inches

Weight: 154.3 LBS

Power requirement: 230 V, 50/60 Hz, 1.1 A
The design of the Zeutschel OS 12002 book cradle protects the spine of the book from damage to extend its life. Each side of the book cradle can raise and lower to compensate for the thickness, and the center depresses protecting the spine of the book. The Zeutschel OS 12002 Advanced Edition includes an upgraded motorized book cradle with a glass plate that opens automatically after each scan.
The included OmniScan Scan software (OS 12) provides a simple to operate digitization tool that delivers impressive results. It easily stores a range of different configurations so you can process repetitive jobs much more efficiently. OS 12 with PerfectBook software features intelligent document recognition with book-fold distortion correction, page straightening, finger removal and page separation.
Service and Support You Can Count On
ScannX provides onsite installation and training, and ongoing support with its U.S. based customer support teams. With ScannXtra Care coverage, ScannX provides annual on-site maintenance to protect your investment, including calibration and cleanings, to extend the life of your large format overhead scanner and ensure the best image quality results.