ScannX Book ScanCenter Elite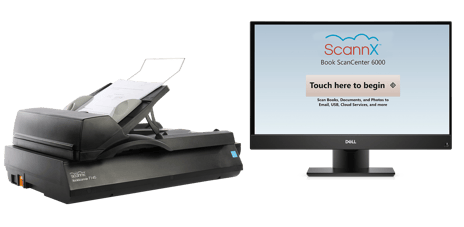 The High-Volume, High-Speed, Easy-to-Use Scanning Solution
The Book ScanCenter Elite is comprised of an All-In-One 21" or 23" touchscreen PC preloaded with ScannX software and connected to an 11" x 17" book-edge scanner with automatic document feeder. This state-of-the-art, book-edge unit can scan an 11" x 17" page in 200 dpi black and white in under 5 seconds. Now libraries can replace their toner-based copiers with this more environmentally-friendly option. The home screen also provides contrast and magnifying tools for the visually impaired.
Features
Automatic document feeder can scan 45 pages per minute
Converts scanned images to PDF, searchable PDF, Word, JPEG, TIFF, PNG, and MP3 file formats
Sends scanned files to email, USB drive, mobile devices, Google Drive, Dropbox, Box, Office 365, OneDrive, network folders, printer, or fax
Integrates with ILLiad, Odyssey, Article Exchange, Tipasa, and WorldShare ILL for easy interlibrary sharing
Patented design captures full pages of text without distortion
Powered by ABBYY FineReader Technology for unmatched OCR accuracy
Translates text to over 60 languages
Easy-to-use software available in English, French, Italian, German, Spanish, and Russian
Supports selected ITC and Jamex payment systems
Protect books and privacy
The patented design of the Book ScanCenter protects the spine of the book from damage to extend its life. The book page lies flat on the glass, and the full image of the page is captured without distortion. The system can automatically scan a stack of up to 11" x 17" documents and automatically crop, straighten and orient each page.
The system also protects privacy and confidentiality by only saving the scanning statistics and not any identifiable session information. Users can also password protect a PDF scanned document and an additional authentication module can prevent anonymous emails from being distributed.
The ScannX Book ScanCenter Elite offers touchscreen scanning to:
Standard:

Email
FamilySearch
Google Drive
Mobile devices
Network
Print
USB Drive
Wēpa

Optional:

Article Exchange
Box
Dropbox
Fax
lLLiad
Odyssey
Office 365
OneDrive
Tipasa
WorldShare ILL
Scannalytics
The solution is also integrated with cloud-based Scannalytics reporting, which provides a look at destination use and volume of scanned pages over time. These reports can be configured for weekly, bi-weekly, and monthly delivery to your email.
Unmatched OCR Accuracy
The Book ScanCenter is integrated with the ABBYY Fine-Reader Engine for unmatched optical character recognition (OCR) accuracy. ABBYY's multi-lingual document recognition engine automatically detects English, French, Italian, German, and Spanish languages. An optional OCR pack allows for detecting up to 189 languages.
Translation Services
Translation Services, optional at a fixed fee per year for unlimited use, enable users to scan a document and have the text instantly translated into any of 60+ different languages. The original and translated documents, stored as Word files, can be sent via email or stored to USB drive, Network folder, Google Drive, Box, Dropbox, Office 365, and OneDrive destinations.
Supported Billing Systems

The Book ScanCenter supports ITC and Jamex* coin, bill, and debit/credit card systems. It also works with leading print management vending systems including GoPrint, Pharos, and P-Counter. ScannX systems also support card systems from Blackboard and CBORD.
*compatible with Jamex 6557 coin/bill box products shipped after 4/1/2014
Reliability
The Book ScanCenter hardware is backed by a one-year Manufacturer's Warranty that can be upgraded and extended through ScannXtra Care® for up to five years. The unit is supported by ScannX technical support and customer service teams in the U.S.