Hardware Accessories
You can customize your ScannX solution to meet your exact needs, whether that is additional scanning hardware that integrates with our software, cost recovery solutions to help your scanning setup pay for itself, or ergonomic accessories to make scanning easier for all users:
Electric Height-Adjustable Table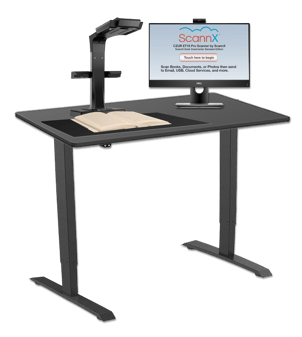 This black, 48" x 30" height-adjustable table perfectly complements your ScannX scanners by enabling you to adjust your workspace to how you want it to function, whether that is a standing workstation or a seated scan hub. Just click one button and the table height will adjust to accommodate your patrons, including those with accessibility needs.
The height-adjustable table features:
154 lbs lifting capacity (not including desktop weight)
48" x 30" desktop size
28" - 47.6" adjustable height
1" per second lift speed
Industry-leading warranty: 5 years for the frame, motor and other mechanisms, and 2 years for the controller, switch, and other electronics
Whisper quiet: Operating noise less than 50dB
Workrite Poise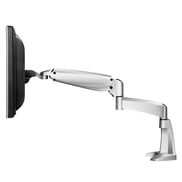 The Workrite Poise ergonomic PC arm can support the ScannX touchscreen PC to meet any user's need for visual acuity and individual user preference. The arm features a parallel linkage design with adjustable pneumatic counter balance that floats the monitor above the work surface. A simple touch with your fingertip will easily change the position of the Workrite Poise, while the monitor remains perfectly parallel.
Features at a glance:
Supports: One 8 – 22 lbs. monitor
Max Monitor Height: 12.5″ (Full Range of motion)
Vertical Articulation: 12″
Forward Reach: 23.25″
Collapsible: Down to 4″
Tilt range: 160° (+70°/-90°)
Pivot: 180° (+/-90°)
Rotation: 360° (portrait to landscape)
Standard VESA (75mm & 100mm)
Mounts: C-Clamp & Grommet Included
Optional Mounts: Wall, Slat Wall & Tool Rail
Optional Extension Arm: +7" to Forward Reach for corner applications
Available Colors: Silver or Graphite