Hardware Options
You can customize your ScannX solution to meet your exact needs, whether that is additional scanning hardware that integrates with our software, cost recovery solutions to help your scanning setup pay for itself, or ergonomic accessories to make scanning easier for all users:
---
Document Scanning Solutions
Fujitsu ScanSnap SV600: Color Overhead Scanner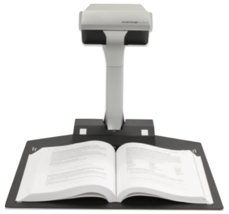 The Fujitsu ScanSnap SV600 makes overhead scanning simple, providing users with limitless possibilities. It breaks free from typical flatbed limitations by scanning content larger than letter size.
Simply position the document on the A3 scan mat and press scan. With the touch of the power button, ScanSnap SV600 is ready to scan in just 3 seconds! Combined with intelligent image correction, great results are just a button push away.
Features at a glance:
One-button overhead scanning technology
Scans bound material and flat documents
Scans an A3 size area in less than 3 seconds
CCD optic with fast LED illumination
Book curve image-flattening technology
Erase finger from image function
Auto crop, de-skew and rotation features
Auto page-turn detection sensor
Timed interval scanning mode
Download the Book ScanCenter Overhead with Fujitsu ScanSnap SV600 data sheet
Ergonomic Solutions
Workrite Poise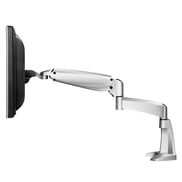 The Workrite Poise ergonomic PC arm can support the ScannX touchscreen PC to meet any user's need for visual acuity and individual user preference. The arm features a parallel linkage design with adjustable pneumatic counter balance that floats the monitor above the work surface. A simple touch with your fingertip will easily change the position of the Workrite Poise, while the monitor remains perfectly parallel.
Features at a glance:
Supports: One 8 – 22 lbs. monitor
Max Monitor Height: 12.5″ (Full Range of motion)
Vertical Articulation: 12″
Forward Reach: 23.25″
Collapsible: Down to 4″
Tilt range: 160° (+70°/-90°)
Pivot: 180° (+/-90°)
Rotation: 360° (portrait to landscape)
Standard VESA (75mm & 100mm)
Mounts: C-Clamp & Grommet Included
Optional Mounts: Wall, Slat Wall & Tool Rail
Optional Extension Arm: +7" to Forward Reach for corner applications
Available Colors: Silver or Graphite

Learn more about the Workrite Poise