Book Scanners: The Next Chapter
It's Time For Your Library To Turn The Page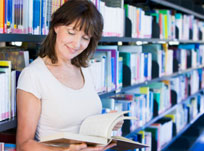 ScannX® book scanners and software streamline your library's operations to create efficiencies, cut costs, reduce maintenance and eliminate reliance on continuous IT support. But most importantly, Scannx book scanning technology improves the library experience for your patrons.
---
First electronic document management system in the industry to allow scan-to-mobile/tablet capabilities, touchscreen scanning and digital document capture
---
Fluid, user-friendly interface and 24/7 remote support (if you need it) -- eliminating the librarian's reliance on the IT department and liberating IT from providing continuous support
---
Real-time reporting with actionable metrics to gain insight into and improve your current workflows
---
Preservation of library patron privacy and complete compatibility with your IT department's current security systems/virus software
---
Click the links below to learn more about the Book ScanCenter product family and decide which level of Scannx library technology is right for your organization.