Document Scanners
Scannx offers solutions that can quickly pay for themselves and integrate with vending solutions to increase your ROI, all while providing the most intuitive scanning experience to your patrons. Choose the hardware that will meet the specific requirements or space constraints of your business with the following document scanning options:
Fujitsu Document Scanner fi-7160: Color Duplex Workgroup Scanner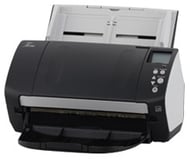 The Fujitsu Document Scanner fi-7160 provides unmatched performance and market-leading document imaging capabilities with faster scanning speeds.

Designed for efficiency and built to last, the Fujitsu fi-7160 scanner protects your documents with acoustic sensors, ensures your data is captured with smart ultrasonic technology, and reduces rescans by cleaning up documents automatically in a single pass. Reliability is enhanced even further with new skew prevention technology for exceptional paper handling.
Fast, 60 ppm / 120 ipm scanning in color, grayscale and monochrome
80-sheets Automatic Document Feeder (ADF)
Advanced paper handling technology for the ultimate in feeding reliability
LED light-source
Embossed card scanning (1.4 mm thickness)
iSOP (Intelligent Sonic Paper Protection)
Comes with PaperStream IP (TWAIN/ISIS) and PaperStream Capture
Download the Fujitsu Document Scanner fi-7160 data sheet
Scannx BookScanner A3 Automatic Document Feeder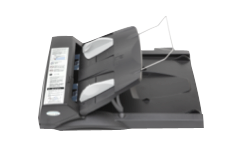 The Scannx BookScanner A3 ADF is an integrated automatic document feeder that replaces the lid of either the BookScanner BS 7145 or BS 6167 book edge scanner, and scans documents at up to 45 pages per minute in black and white. Because the unit rests on top of the book-edge scanner and connects to it via a cable, the BookScanner A3 ADF does not take up any counter/desktop space and provides for the greatest amount of scanning versatility in very limited spaces. The hinges on the BookScanner A3 ADF have a unique spring loaded design allowing the lid to be lifted up with minimal effort and will even hold itself up when opened to make it easier to scan off the flatbed.
The BookScanner A3 ADF expands the versatility of the Scannx Book ScanCenter to scan documents in addition to the books scanned on the book-edge scanner. It has a 50 page capacity document feeder and can scan documents up to 11" X 17". The BookScanner A3 ADF's duty cycle is rated at 2500 scans per day and comes standard with a 1-year manufacturer's warranty. Extended service agreements up to 5 years are also available.

Features at a glance:
Integrated Automatic Document Feeder sits as cover on top of book-edge scanner
Document Feeder rated at up to 45 pages per minute in Black and White at 200DPI
50-Page capacity input tray
Maximum document size is 11" x 17"
Compatible with Scannx BS 7145 and BS 6167 book-edge scanners
Duty Cycle rated at 2500 scans per day
1-Year manufacturer's warranty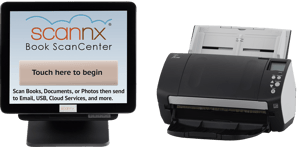 The Scannx Document ScanCenter is comprised of a Scannx touchscreen PC, a Fujitsu color sheetfed scanner, and the Scannx ScanCenter software. It is the industry's most powerful, and easy- to-use, self-service document scanning solution for library patrons and staff.
Features
Scans up to 120 images per minute in color, grayscale and monochrome
80-sheet automatic document feeder
Ultrasonic double-feed detection for feeding reliability
Scans documents up to 8.5" x 34"
Easy-To-Use Book ScanCenter software, available in English, French, Italian, German, Spanish, and Russian
Converts scanned documents into PDF, searchable PDF, Word, JPEG, TIFF, and PNG file formats automatically
Send scanned files to: email, USB drive. Smart Phone/Tablet, Google Drive, OCLC Article Exchange, ILLiad and printer
Supports ACDI, ITC, and Jamex payment systems
Xerox DocuMate 3125: Fast, Affordable, and Compact Document Scanning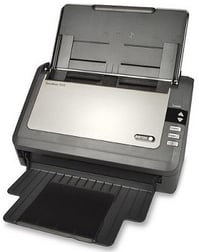 The Xerox® DocuMate® 3125 color desktop scanner quickly converts your documents, plastic cards and forms into digital files, then securely saves them on your computer or in the cloud ready to be accessed another day when needed. It can scan up to 48 images per minute at 300 dpi in duplex and includes a 50-page Automatic Document Feeder (ADF) that handles everything from business cards to A4/Letter size documents.
The Xerox® DocuMate® 3125 has an exceptionally small footprint and will fit comfortably on any desk (especially when folded closed). It is the perfect solution for organizations that need to quickly convert paper documents into searchable PDF files to be shared, organized and protected.
Features at a glance:
Scans plastic cards through the ADF
One touch scanning to multiple applications
Image enhancement software
Create searchable PDF files to make it easy to find scanned documents
Ultrasonic double feed detection
Download the Xerox DocuMate 3125 data sheet
Xerox DocuMate 5445: Hi-Speed Duplex Color Sheetfed Document Scanner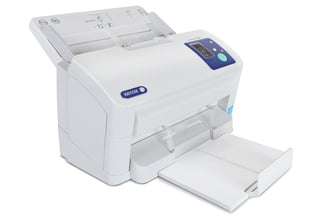 The Xerox DocuMate® 5445 can scan a variety of document types including long, small, thick and thin sheets, as well as student ID cards, drivers' licenses, receipts, and other mixed size documents.
The DocuMate 5445 is integrated with the Scannx touchscreen interface to allow users to simply insert a document and press the "SCAN" button on the touchscreen window to initiate scanning. The Scannx software takes over from there, auto-cropping, auto-straightening and auto-orienting the documents. No other book scanning option can scan and convert 50 pages of text into a searchable PDF file format as quickly at this price point.
Features at a glance:
Advanced high-output workgroup scanner
45 ppm / 90 ipm *
Reliable paper feed mechanism with double-feed prevention
On-Board Acuity image processing
Convenient 75 page ADF capacity **
Create searchable PDF files to make it easy to find scanned documents
Instantly scan at the touch of a button
Batch scan mixed paper and hard cards
Energy saving and instant on use of LED technology
* Portrait US letter and A4, 200 dpi, b&w/color
** 20 lb./75-80 g/m2 paper