Turning Your Green Library Into An Eco-Education Resource
Incorporating eco-friendly efforts into already successful library services provides tremendous benefits and leaves a profound impact on your patrons.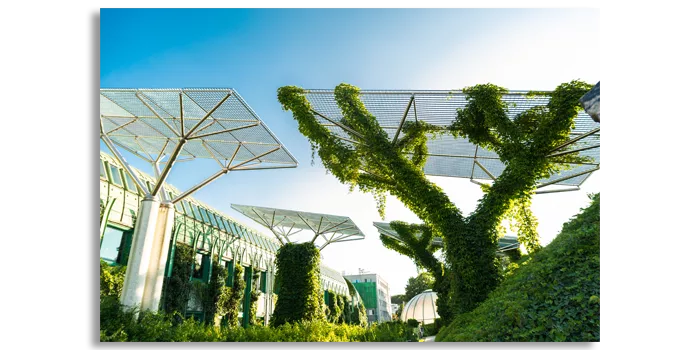 We've talked a lot about the various aspects of transitioning to a green library, but it's important to bring into focus the true purpose of a library: to educate people. A library is a place for reading, learning, interacting, growing your knowledge base and expanding your imagination. As such, it makes sense to bolster your eco-friendly efforts with eco-education. This means making your green library a place for patrons to not only participate in the eco-friendly movement, but also educate themselves on it.
Let's examine the benefits of a green library as a source of education for the green movement.
Educational Reading Material
Libraries house seemingly endless bases of reading material. Draw on your library's reading resources to educate patrons on environmental dangers and eco-friendly behaviors.
Create an eco-learning area with access to books, magazines, articles, videos and podcasts.
Offer guides to going green. (LEED certification materials, digital tip sheet for students.)
Feature a list of national, state and local government green programs, grants and funding.
Provide tools for patrons to calculate their eco-footprint.
Personal And Professional Development
Many libraries offer free educational classes or courses. Consider providing spaces for after-school clubs or organizing programs for those who want to further their eco-education.
Supply training on new energy-saving technology.
Offer meeting space for local environmental groups to brainstorm in.
Sponsor an eco-book club for members to share and discuss environmental stories and issues.
Host environmental education seminars for teachers and after-school program leaders.
Community Engagement And Involvement
Libraries are typically situated in centralized town locations, giving them every opportunity to strike up partnerships with local businesses and get more involved in the community at large.
Provide old books and magazines for people to read at coffee shops, waiting rooms, etc.
Promote local, eco-friendly businesses at your library, and highlight them in library newsletters.
Use locally grown food, drinks and snacks for library events.
Encourage the community to paint eco-murals using non-toxic paints and art supplies.
Host an eco-fair to highlight other local, eco-friendly businesses and allow local environmental groups to share information with the community.
Green Activities
Some libraries host game days, outdoor activities and arts and crafts, which help tremendously in encouraging patron interaction and add just the right amount of fun for an educational institution. If your library offers any sort of program or activity, consider incorporating eco-friendly practices.
Plant trees on the library property or in community spaces.
Create a community garden on site.
Host recycling drives.
Hold eco-art workshops for kids to create arts and crafts using recycled materials.
Local School Partnerships
An academic or community library is well within the realm of local schools – and likely packed with students on a regular basis. Use this audience as an opportunity for partnership, and start aligning some of their school requirements with your library programs.
Provide eco-education materials to classrooms learning about the environment.
Dedicate a section of the library to resources and required readings assigned to students.
Donate unused materials to local school libraries and classrooms.
Create eco-challenges for students and schools to participate in.
Sponsor a Catalog-Canceling Challenge, encouraging kids and parents to cancel unwanted catalogs and save trees.
Whether it's adorned with eco-friendly wallpaper or uses air conditioning that runs on sustainable energy, a green library is still, at it's core, a library. Incorporating eco-friendly efforts into already successful library services provides tremendous benefits and leaves a profound impact on your patrons.