Zeutschel OS 16000 Comfort powered by ScannX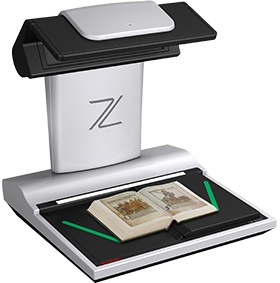 The fast, professional, large format scanner to meet every imaginable need
The Zeutschel OS 16000 Comfort is a powerful A2, 600 dpi color digitization tool recognized for its ease of use, image quality, advanced capabilities, book friendly scanning, security, accessibility, and cost effectiveness. Scan modern as well as historical books , manuscripts, magazines, science reports, contracts, or other cultural heritage. Powered by ScannX Professional Edition software, it is easy to install and maintain.
This solution combines the uncompromising quality of the Zeutschel overhead scanners with the intuitive ScannX software. With its large friendly buttons, the ScannX software guides the user through the scan process including choosing file formats, scan quality, color depth, file naming, and destinations.
Features
25" x 18.1" scan area (A2) integrated book cradle
Up to 600 dpi color
Perfect Book software straightens text, thumb removal
Converts scanned images to PDF, searchable PDF, Word, JPEG, TIFF, PNG, and MP3 file formats
Sends scanned files to email, USB drive, mobile devices, Google Drive, Dropbox, Box, Office 365, OneDrive, network folders, printer, or fax
Integrates with ILLiad, Odyssey, Article Exchange, Tipasa, and WorldShare ILL for easy interlibrary sharing
Powered by ABBYY FineReader Technology for unmatched OCR accuracy
Translates text to over 60 languages
Supports selected ITC and Jamex payment systems
Blackboard and CBORD certified
Headset jack to help visually-impaired patrons import their scans, output audio files
Protect Your Books
The patented design of the Zeutschel OS 16000 Comfort book cradle protects the spine of the book from damage to extend its life. Each side of the book cradle can raise and lower to compensate for the thickness, and the center depresses to protect the spine of the book.
Scannalytics®
Scannalytics tracks usage statistics, enables features remotely, and distributes updates. IT and Accounting departments can use these reports to manage and optimize asset utilization and department chargeback fees.
Integrated OCR
The Zeutschel OS 16000 Comfort is integrated with the ABBYY FineReader Engine for unmatched accuracy. ABBYY's multilingual document recognition engine automatically detects English, French, Italian, German, and Spanish languages.
Translation Services
Translation Services, optional at a fixed fee per year for unlimited use, enable users to scan a document and have the text instantly translated into any of 60+ different languages. The original and translated documents, stored as Word files, can be sent via email or stored to USB drive, Network folder, Google Drive, Box, Dropbox, Office 365, and OneDrive destinations.
Supported Billing Systems
The Book ScanCenter supports ITC and Jamex coin, bill, and debit/credit card systems. It also works with leading print management vending systems including Pharos, EnvisionWare, and PCounter.