DC1000 ScannX Digital Copier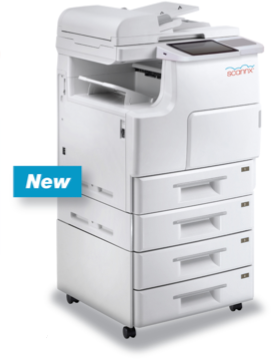 Copy, Print, Scan, Email, and Fax
The ScannX Digital Copier (DC1000) is our answer to the ever-changing library environment for digital document services. It's today's smart staff assistant that not only copies, prints, scans, and faxes with just a few easy taps on the screen, but also auto-crops and auto-straightens the images. No more hassle giving refunds to patrons for copies printed crooked.

The ScannX Digital Copier integrates its award-winning easy-to-use software and cloud services with the copier's auto-crop and auto-straighten features, producing perfect results the first time. Moreover, you also reduce paper and toner costs, refunds, and staff support time.

The DC1000 copier's cloud service tracks usage, pushes updates, provides revenue reports for vended solutions, and auto-emails alerts when paper and toner need to be refilled. You can also custom configure the copier's touchscreen user interface via your browser. For privacy and confidentiality, unlike other copiers, no email addresses nor scanned or printed materials are saved on the DC1000, and hence do not have to be erased annually.

Say goodbye to crooked prints, hard to use touchscreen menus, and limited, if any, online usage reports. Imagine an environment where your book scanners and copiers all have the same core features and functionality, dramatically increasing adoption and providing a simplified user training experience with fewer mistakes and faster proficiency. The common architecture behind ScannX capture software and cloud services includes industry-leading security, reliability, redundancy, accessibility, and sustainability features.
Features
Fast one touch copies – The DC1000 AutoCrop and AutoStraighten features eliminate the need for users to specify document size. And no need to worry if documents are not loaded or aligned properly in the feeder or on the flatbed. Eliminates crooked prints and resulting patron refunds.
Large, easy-to-use touch panel – Large 8" tablet-like touchscreen interface guides the user through ScannX's easy to use and intuitive interface.
Advanced scanning capabilities – Scan paper-based documents in full color in PDF, JPEG, or TIFF file formats and send them to a variety of destinations such as Email, USB, Google Drive, Microsoft OneDrive, and Dropbox.
Convenient walk-up printing and scanning – A USB direct interface is available for printing files from, or scanning files to, your USB flash memory drive.
Mobile Print – Wirelessly print documents accessed from your smartphone and tablet.
Cloud Ready – Print, copy, scan, and share to and from the cloud.
Internet Fax – No telephone lines required. The copier's integrated duplex sheetfed scanner and optional credit card terminal or coin/bill box can produce significant revenue for the library.
Fast, high-quality printing and copying – Produce professional black and white output at impressive print and copy speeds of up to 45 copies per minute (A4, LEFT). Use the automatic duplex printing feature to help save paper and reduce costs.
High-Yield Toner Cartridge – The DC1000 is shipped with easy-to-install, high-yield 20,000-page toner cartridges that deliver a low cost per page.
Cloud configurable – Use only those copier functions requested by your library patrons and staff.
ScannX Cloud Services – Tracks usage, reports revenues generated, and enables new features and custom configurations.
Never run out of paper and toner – Set auto-alerts for paper and toner refill levels.
Security and Reliability – Comprehensive 24 x 7 x 365 secure monitoring hosted on Microsoft Azure.
Purchase and Lease Options – Starting at under $200 month, lease the ScannX Digital Copier and use the funds generated from its patron generated revenues to further reduce your monthly operating costs while offering your patrons state-of-the-art document services.