Scannx Book ScanCenter Flexi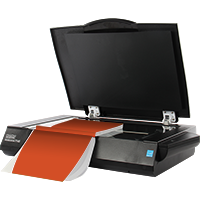 The lowest cost, large format book-edge scanner
The Scannx Book ScanCenter Flexi is the industry's most affordable, easy-to-use, large format book scanning solution for library patrons and staff. Designed with large friendly buttons, its software easily guides the user through the complete scan process.
Features
Connects to any Windows 8.1 or Windows 10 PC with standard or touchscreen monitor
Converts scanned images to PDF, searchable PDF, Word, JPEG, TIFF, and PNG file formats
Sends scanned files to mobile devices, fax, USB drive, Google Drive, network folders, FTP, printer, or email
Patented design captures full pages of text without distortion
Pages up to 11x17" can lie flat on glass to protect book spine
Powered by ABBYY FineReader Technology for unmatched OCR
Easy-to-use software available in English, French, Italian, German, Spanish, and Russian
Supports selected ACDI, ITC, and Jamex payment systems
Protect books and privacy
The patented design of the Book ScanCenter Flexi protects the spine of the book from damage to extend its life. The book page lies flat on the glass, and the full image of the page is captured without distortion. The Book ScanCenter automatically crops, straightens and orients each page.
The system also protects privacy and confidentiality by only saving the scanning statistics and not any identifiable session information. Users can also password protect any scanned document and an additional authentication module can prevent anonymous emails from being distributed.
The Scannx Book ScanCenter Flexi offers touchscreen scanning to:
USB drives
Email
Google Drive
Dropbox
Fax
Mobile devices

Network folders
Printers
FTP
OCLC Article Exchange
lLLiad
Odyssey
Scannalytics
Scannalytics tracks usage statistics, enables features remotely, and distributes updates. IT and Accounting departments can use these reports to manage and optimize asset utilization and department chargeback fees.
Unmatched Accuracy
The Book ScanCenter Flexi is integrated with the ABBYY FineReader Engine for unmatched accuracy. ABBYY's multilingual document recognition engine automatically detects English, French, Italian, German, and Spanish languages. The home screen also provides contrast and magnifying tools for the visually impaired.
Supported Billing Systems

The Book ScanCenter Flexi supports ITC and Jamex coin and debit card systems and major credit cards. It also works with leading print management vending systems including Pharos, EnvisionWare, and P-Counter. Scannx systems also support card systems from Blackboard and CBORD.
Reliability
The Book ScanCenter Flexi is backed by a one-year manufacturer's warranty that can be extended through Scanxxtra Care for up to five years. The unit is supported by Scannx technical support and customer service teams.